Las Vegas – As Governor Brian Sandoval (R-NV) delivered his very first speech on the State of the State address before the State Legislature last Monday, January 24. "Painful" cuts were felt immediately across the state as the new governor tackled education reform and state budget reform based on 2007 spending levels. Following are some excerpts from his speech:
Governor Sandoval proposed to cut education budget by as much as 18.7 percent. He also proposed a cut on all federal employee salary by 5 per cent.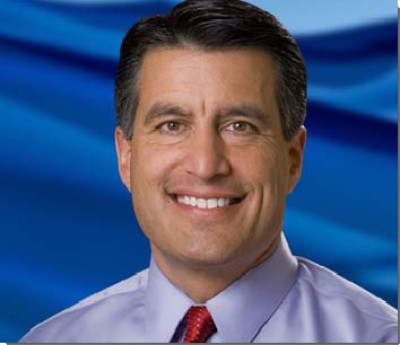 On State Budget
On balancing the state budget, Governor Sandoval states: "Some believe government is the only solution to our current plight. I disagree. Unemployment, foreclosures, bankruptcy – the cure is not more government spending, but helping businesses create jobs."
Upon assuming office, Gov. Sandoval was faced with the State General Fund at the tune of $8.3 billion in the coming biennium instead of the current $6.2 billion. He declined it saying "the population of Nevada has declined, yet the proposed budget would have increased state spending by 34 percent."
The governor sought to return spending to 2007 levels. With revenues for the next biennium projected at only $5.3 billion and a $1.2 billion hole in the budget, he started looking at each department budget on a case-by-case basis.
"The budget I am submitting to the Legislature represents an eight percent
reduction in total spending from the current biennium. My budget recommends the
consolidation, elimination, or centralization of 20 departments and agencies. From the consolidation of the Departments of Personnel, Information Technology, Public Works and Administration…., we will make state government more efficient and more responsive."
According to the governor, state employees merit pay and longevity pay will remain frozen, and salaries will be reduced by five percent. Also, positions are eliminated in the budget, and lay-offs will occur, and the cumbersome furlough program will cease.
On Education Reform
Basic Support in our K-12 schools is reduced by $270 per pupil. State, local, and student revenue for the Nevada System of Higher Education is reduced by less than seven percent. With the loss of one-time stimulus dollars, the total reduction is 17.66 percent. However, the Regents have the option of bringing tuition and fees more in line with other Western States, so many of these funds can be recovered.
On Health, Human Services & Public Safety
In Health and Human Services and Public Safety, the governor identified over $100 million in state spending for essential local programs. According to him, the State can no longer afford to pick up this tab, so he plans to transfer these responsibilities to the local level.
"Medicaid and other Health and Human Services caseloads have grown exponentially, requiring an additional $245 million. Moreover, Nevada is now responsible for providing an extra $190 million toward the federal Medicaid match. We also must begin paying the $66 million in interest on money Nevada has borrowed for unemployment benefits.
Moreover, the State must contribute an additional $440 million to our public schools," he explained.
"In the Department of Health and Human Services alone, $118 million in spending for essential programs was restored. My budget preserves nearly $55 million for personal care services, $4 million in adult day health care, and $8 million in benefits to two-parent households on Temporary Assistance to Needy Families. We also preserved funds for traumatic brain injury services, autism, early intervention services, independent living, medically necessary dentures, prosthetics and orthotics, all at reduced overall spending," he states.
"My budget continues to redirect nine cents of property tax from Clark and Washoe Counties. I will restrict this money to the support of universities and community colleges in those counties, because property values rise and economic growth occurs where universities contribute to economic development," he reasons out.
"Finally, I am proposing to raise $190 million by monetizing the state insurance premium tax proceeds. This solution is not perfect, but it is sound, and it prevents further reductions to education and human services. When all was said and done, the proposed General Fund expenditures in my budget total just over $5.8 billion over the next two years – within one percent of General Fund spending in 2007," Gov. Sandoval says as he ends his State of the State address. (Zen S. Laluna)