Carson Mayor Pro Tem Elito Santarina launched his re-election campaign January  23 with a strong endorsement from Carson Mayor Jim Dear who said that Santarina is one of the hardest working council members who needs to be back in the City Council.
"Elito Santarina has the utmost good intentions to serve the people of Carson. Our city is at the crossroads and we need all the efforts to progress. Santarina whom I am endorsing is qualified and has the experience to serve Carson," Dear said.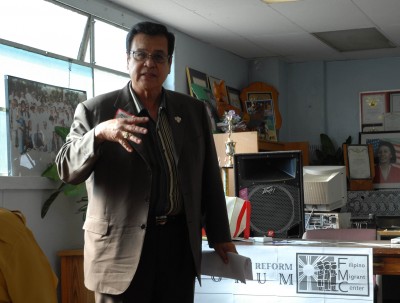 Councilwoman Julie Ruiz Raber also endorsed Santarina's candidacy, saying  "Elito has done a lot for the senior citizens in Carson. He needs to stay in the City Council. The computer lab for seniors, his major project, has provided much needed technical skills for the seniors," Raber said.
Lynwood School District superintendent and former Carson High School principal Dr. Lao also vouched for Santarina.
"I have known Elito for many years. We have worked together for a long time. He is one of the pioneers who has established the Maharlika Club in Carson High and has convinced many parents to be involved in their children's education. You have Mayor Dear who is also an educator. This duo have the best vision for Carson, Dr. Lao emphasized.
Backed by many Filipino American associations, Santarina  is also endorsed by the Progressive Democratic Club and the Mexican American Democratic Club.
Carson Commissioner Marcelino Ines who has known Santarina for 30 years said that Santarina deserved to be re-elected. "We have seen him at the forefront of the fundraising project for the victims of typhoon Ondoy in the Philippines and those affected by the tsunami in Samoa. Elito will help those who need his assistance particularly those in the community."
Other community and church leaders supporting Santarina are: Ads Diaz, president of the Pangasinan Brotherhood; Atty. Jose Lauchengco; Dr. Manlapaz; Wilma Wilson; Olivia Verett; Virginia Sanchez of the Filipino Community of Carson; Perlita Rasing  and Henry Ward of the CONFAA; Amador Saenz of SCAN and Marvin Clayton of the Public Relations Commission.