CARSON – Filipino American Councilman Elito Santarina was re-elected to the City Council and sworn in by City Clerk Helen Kawagoe last March 22 at the Carson community center. In his speech, Santarina expressed his gratitude to the youth who helped him in his campaign, particularly those from Carnegie Middle School, Carson High School and former students who came back to Carson to volunteer in the campaign.
He ended his acceptance speech with a quote from Dr. Martin Luther King,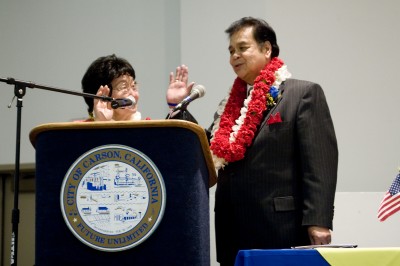 "We can choose either to walk the high road of human brotherhood or to tread the low road of man's inhumanity to man."Santarina, who endorsed Harold Williams, another candidate, expressed his strong desire to work in harmony with incumbent Lula Davis Holmes who is known to be an opponent of Santarina. Holmes was re-elected.
Carson City Councilmember Julie Ruiz Raber was chosen as the new Mayor Protempore. Other winners were treasurer Karen Avilla and Carson City Clerk Helen Kawagoe who ran unopposed.  Filipino American Ray Monzon ran against Avilla and won over Avilla in some precincts.
Carson Mayor Jim Dear stressed the importance of working together. He said, " The City of Carson face many challenges which are primarily financial. We can work as a team. There will be differences of style, opinion and maybe disagreements. But the five of us always agree on issues such as the threat from Sacramento regarding the budget, gang and crime problems, mobile home park crisis. You chose us to be your leaders. We will work together for victories in Carson."
Rev. Major Johnson of the Bread of Life Christian Center ended the ceremony with his benediction.