By Benjamin Pulta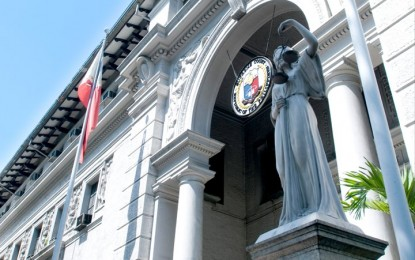 MANILA – The Supreme Court (SC) has affirmed the Sandiganbayan ruling that junked the consolidated cases filed by the Presidential Commission on Good Government (PCGG) nearly four decades ago for the recovery and reconveyance of alleged ill-gotten wealth of industrialist Lucio Tan Jr., the late president Ferdinand Marcos Sr., and Imelda Marcos.
In an extensive 62-page decision dated Oct. 3 and uploaded online Tuesday, the SC en banc affirmed the Sandiganbayan's rulings in the four cases dating back to July 17, 1987, filed during the Cory Aquino administration.
The complaints sought the reversion, reconveyance, restitution, accounting and damages against the Marcos couple and 24 other individuals in connection with alleged transactions with Tan.
The court also denied for lack of merit the petition questioning the Sandiganbayan's rulings to reject the government's plea to be allowed to file "amended complaints."
It upheld other Sandiganbayan rulings on the case, including the outright dismissal of the cases against former Marcos hands, Don Ferry and Cesar Zalamea, and likewise affirmed the anti-graft court's ruling for the Sandiganbayan justices not to inhibit themselves from the cases.
The court said the affidavit of supposed Marcos financial consultant, Rolando Gapud, cannot be admissible either as the prosecution failed to present him before the witness stand for cross examination.
"Affidavits are generally prepared not by the affiant himself, but by another who uses his or her own language in transcribing or writing the statements. If the affiant is not presented, the opposing party is deprived of the chance to cross-examine him or her," the court said, since "the opposing party cannot test the perception, memory, veracity and articulateness of the out of court declarant."
"As such, Gapud's affidavit remains devoid of probative value for purposes of establishing the truth of Gapud's claim on the alleged 60-40 business arrangement between Marcos and Tan," the SC said.
The consolidated cases included the recovery of alleged ill-gotten wealth acquired by Marcos and Tan through the liquidation of the General Bank and Trust Company, and Tan's acquisition of its assets through Allied Banking Corporation without sufficient collateral; Tan's alleged delivery to Marcos of a substantial beneficial interest in shares of stocks in Asia Brewery Inc. beginning 1977 in exchange for concessions and privileges for his business ventures; establishment of Shareholdings Inc. for illegally obtained assets including shares in Fortune Tobacco Corp., Asia Brewery, Foremost Farms Inc., Himmel Industries Inc., and Silangan Holdings Inc.; sale of controlling interests of the Development Bank of the Philippines in a number of hotels; printing of revenue stamps for products of Fortune Tobacco Corp.; and the establishment of Northern Redrying Co., which allegedly imported and purchased tobacco in excess of the allowable ceilings under the law. (PNA)