By Benjamin Pulta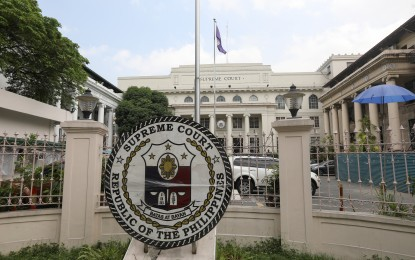 MANILA – The Supreme Court (SC) on Tuesday held oral arguments on a suit filed by a party-list group questioning the circumstances under which the Commission on Elections (Comelec) allowed its former commissioner to be nominated as a party-list group candidate in the last national elections.
State lawyers said the poll body had not abused its authority in allowing former Comelec commissioner Ma. Rowena Amelia V. Guanzon as a substitute nominee for the (P3PWD) Komunidad ng Pamilya, Pasyente at Persons with Disabilities.
Appearing for the poll body, Assistant Solicitor General Ma. Victoria Sardillo-Salom said the "the Comelec did not gravely abuse its discretion."
Sardillo-Salom said pertinent laws such as the law on party-list elections, Republic Act No. 7941, expressly empowered the Comelec to craft rules and regulations and added that the resolutions issued by the poll body cannot be applied to deprive a duly appointed nominee of taking his/her seat in office.
"That would be the anathema of the intention of the framers when they institutionalized that provision in the Constitution," she said.
Sardillo-Salom added the group's nominees backing out from representing the organization and chose Guanzon as a replacement was "certainly unfortunate but it did happen. Unfortunately, the Comelec does not possess any power under RA 7941 to compel the same nominees to continue as such. However, the Comelec is allowed to receive by way of substitution of additional nominees in order to fill in the de facto vacancies."
"The Comelec did exactly that," she said.
In its petition, the Duterte Youth (Duty to Energize the Republic through the Enlightenment of the Youth), through its chairman Ronald L. Cardema and Rep. Ducielle Marie S. Cardema, asked the tribunal to stop the poll body from proclaiming Guanzon.
Duterte Youth claimed the substitution is "a deliberate attempt to defraud the electorate and to create the impression that there is no more option but to allow the new substituting first nominee to sit in Congress or else their vote will be disenfranchised."
Guanzon retired from Comelec on Feb. 2, 2022 and on June 14 of that year asked the poll body for the substitution of five new nominees including her as the first nominee. The request was approved the next day by the Comelec.
Under the Party-List Systems Act (RA 7941), the names of the party-list representatives must be submitted 45 days before the elections and no change of names or alteration of the order of nominees shall be allowed after the same shall be submitted to the Comelec except in cases of death of the nominee, or withdrawal in writing or otherwise becomes incapacitated.
Substitution due to death or incapacity can only be done until mid-day of election day.
Likewise, the petitioners citing the Code of Conduct of Public Officials (RA 6713), said public officials and employees shall not, directly or indirectly have any financial or material interest in any transaction requiring the approval of their office. The prohibitions apply for one year after resignation, retirement or separation from public office. (PNA)