By Benjamin Pulta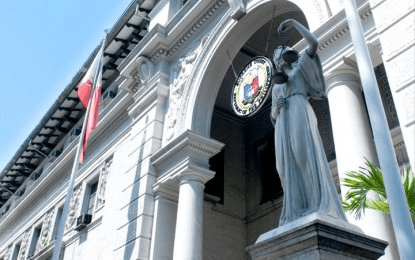 MANILA – The Supreme Court (SC) has issued a writ of kalikasan against mining activities under an agreement originally entered into by the government and a mining firm 30 years ago in Mt. Mantalingahan in the province of Palawan, which is allegedly fueling widespread ecological destruction, including deforestation, in the area.
In a statement Wednesday, the high court said it resolved to grant the petition filed by a group of indigenous cultural communities during Tuesday's deliberation and ordered the parties named in the suit — the Department of Environment and Natural Resources (DENR), Mines and Geosciences Bureau (MGB), Ipilan Nickel Corporation (INC) and Celestial Nickel Mining and Exploration Corporation (Celestial Mining), to file a verified return of the writ within 10 days.
"Thus, with the Court's issuance of a writ of kalikasan, the project proponents, INC and Celestial, are required to provide evidence to dispel concerns regarding potential harmful impact of a project to the environment," the high court said.
"The same applies to the DENR and MGB, whose inaction over the strong pleas of the residents of Brooke's Point shows their indifference to the rights of the ICCs to a balanced and healthful ecology," it added.
On May 30, 2022, the DENR Community Environment and Natural Resources Office already issued a cease-and-desist order directing INC to halt its port construction for the lack of a valid Miscellaneous Lease Agreement approved by the DENR Mimaropa Regional Office.
In 1993, the government and Celestial Mining entered into a Mineral Production Sharing Agreement (MPSA) covering 2,835.06 hectares of land located in Brooke's Point, Palawan, with INC as the designated mining operator.
After their Environmental Compliance Certificate (ECC) expired in October 2015, then DENR Secretary Regina Paz Lopez ordered INC and Celestial to stop but the firms still continued with their tree-cutting activities.
In 2018, the INC still continued with its operations despite INC failing to secure a Certificate Precondition from the National Commission on Indigenous Peoples (NCIP) for the renewal of the MPSA.
However, on Dec. 21, 2020, then DENR Secretary Roy Cimatu issued an order reckoning the effectivity date of the MPSA to the year it was amended in 2000, and not the year it was originally executed in 1993. The order, in effect, extended the MPSA until April 10, 2025.
This was followed by a resolution by the Sangguniang Bayan (Municipal Council) of Brooke's Point requesting the MGB to investigate the mining areas claimed by INC and recall issued permits pending investigation. (PNA)