By Benjamin Pulta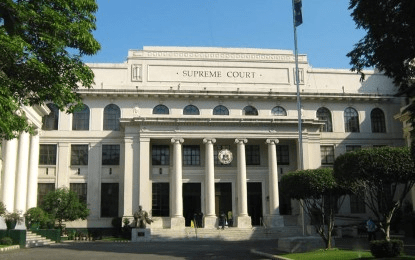 MANILA – The Supreme Court (SC) on Monday said it has turned down a petition filed by the Senate questioning a directive by then President Rodrigo Duterte, ordering executive department officials and employees not to attend legislative inquiries on the government's coronavirus response plan, saying it deprives officials of time to adequately undertake their duties.
In a 22-page decision promulgated in July last year and uploaded online on Oct. 18, the Court also denied the application for preliminary injunction sought by the lawmakers against Malacañang's memorandum issued by Duterte through then Executive Secretary Salvador Medialdea on Oct. 4, 2021.
"All told, the Court is constrained to dismiss the petition (filed by the Senate) for having been prematurely filed. Unless and until the senate has resolved with finality the jurisdictional challenge of the President, there can be no actual case or controversy to speak of yet," the SC ruled.
The Office of the Solicitor General argued that the Senate failed to identify whether the inquiry falls within the jurisdiction of the Senate Blue Ribbon Committee or within the jurisdiction of the Joint Congressional Oversight Committee under the Bayanihan Acts, the laws passed to address the pandemic.
The question of this jurisdiction, the Court agreed, should be decided by the Senate itself.
"Notably, the forum to address such jurisdictional claims is the Senate and its committees themselves. This recognition is meant to accord the highest respect for the Senate's own rules of procedure," the SC noted.
The investigation by the Senate Blue Ribbon Committee had been undertaken on the budget utilization of the Department of Health in the funds for the government's Covid-19 response.
Several senators, among them Juan Miguel Zubiri, Leila de Lima and Risa Hontiveros authored Senate Resolutions (No. 858, 859, and 880) to conduct legislative inquiries on the disbursement of funds.
After initially complaining about how the proceedings are going, Duterte issued the memorandum, noting that "given the manner that the inquiry has been conducted, and clear indications that the hearings are meant to go on indefinitely, it has become evident that the said hearings are conducted not in aid of legislation, but to identify persons to hold accountable for alleged irregularities already punishable under existing laws".
The Senate, Malacañang said in the memorandum, "has stepped into the mandates of other branches of government and has deprived itself of the only basis to compel attendance to its hearings,"
As a consequence, Duterte said in the memorandum that he is directing all officials and employees of the executive department to no longer appear before or attend the hearings effective immediately and "instead, they shall focus all their time and effort on the implementation of measures to address the current state of calamity on account of Covid-19 and in carrying out their other functions". (PNA)