By Christopher Lloyd Caliwan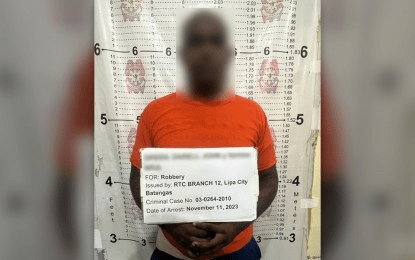 MANILA – Authorities arrested a man who attempted to solicit money from victims by posing as National Capital Region Police Office (NCRPO) director Brig. Gen. Jose Melencio Nartatez Jr. on social media.
In a message sent to the Philippine News Agency on Monday, NCRPO spokesperson Lt. Col. Eunice Salas said the suspect, Darell John Green, who is of African-American descent, was arrested in Barangay Barreto, Olongapo City at about 9 a.m. on Nov. 11 for robbery and four counts of qualified theft.
Salas said they received reports last week about the creation of the fake Facebook account of Nartatez, which was supposedly used to solicit funds for basketball uniforms.
The suspect asked the victims to send their donations to a GCash number under the name of a former police officer. The officer, however, denied owning the account, she said.
Salas said further investigation showed the suspect also created a Viber and Instagram account using the cellular phone number used in the Gcash account.
"Based on our investigation, many did not believe (the solicitation) because they know the regional director will not do that," she added.
Salas said the suspect also used fake social media accounts of other police officers, including Quezon CIty Police District (QCPD) chief Brig. Gen. Redrico Maranan and Col. Froilan Uy, former Pasay City chief of police, for fraudulent activities.
She said Nartatez ordered a thorough investigation after learning that his name was being used in online scam.
Seized from the suspect's possession were a mobile phone, a black belt bag containing PhilHealth and Bureau of Internal Revenue identification cards, and three SIM cards.
The suspect is currently detained at Camp Bagong Diwa in Taguig City and is undergoing custodial debriefing.
An investigation is underway to identify the suspect's possible cohorts.
Salas said the suspect will be facing additional charges for computer-related identity theft and estafa in relation to the Cybercrime Prevention Act of 2012.
Nartatez, meanwhile, urged the public particularly the cooperation of possible other victims of Green to come forward and file a complaint before the nearest police station.
He added the NCRPO would file appropriate charges against the arrested suspect and also warned the public who are involved in these fraudulent activities. (PNA)