(Relaxnews) – Singapore Airlines confirmed this week that passengers traveling to and from Asia are set to get another budget choice in the form of its new subsidiary carrier 'Scoot'.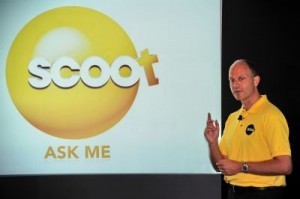 The bright-yellow branding of the new carrier is set to take to the skies next year, operating from Singapore's Changi Airport to initial destinations that are expected to include China and Australia.
By 2016, Singapore Airlines believes that Scoot could be flying a fleet of 14 jets, allowing it to offer flights to destinations such as the US and Europe at lower fares than many existing carriers, which would put it in direct competition with AirAsia's long-haul budget carrier AirAsia X, and to a lesser extent with Qantas's Jetstar.
Although very much a budget affair — extras such as food and luggage are likely to incur charges — Scoot is likely to prove attractive to consumers thanks to the superb reputation of both its parent airline and home airport, both of which are regularly voted the best in the world by passengers.
While the airline is independent from its parent, schedules may be co-ordinated with Singapore Airlines', allowing transit passengers to pass through Changi, which will be a considerable selling point for many.
In a bid to capitalize on Singapore's legendary premium services, Scoot is likely to offer more premium seats than AirAsia X, and they will be larger, although analysis from the Center for Asia Pacific Aviation predicted this week that lie-flat beds will not be forthcoming.
Interestingly, CAPA also believes that Scoot is looking to roll out wireless in-flight entertainment which will allow passengers to rent video content on their own laptops or iPads while in flight.
While Scoot plans to create a 'new culture' among low-cost carriers, it will face significant competition from several other new names, along with planned expansion by AirAsia X and Jetstar — another three low-cost airlines are set to start Southeast Asian operations over the next 12 months.
That means that the low-cost airline trend in Asia is really only just getting started — which will mean more choice and lower costs for passengers traveling to, from and within the region in the future.