By Jelly F. Musico
MANILA, Nov. 24 – Citing the immense worldwide popularity that Manny Pacquiao has gained in recent years, two senators took on Wednesday the initiative to look into the possibility of holding the succeeding fights of the Filipino boxing superstar in the Philippines.
Senators Manny Villar and Gregorio Honasan II filed Senate Resolution No. 290 on Wednesday, urging the committees on tourism, games, amusement and sports as well as the committee on ways and means to know how the next fights not only of Pacquiao but other Filipino world boxing champions could be staged in the country.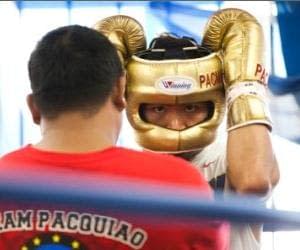 "With the end in view of maximizing the opportunities that their victories have brought to our country by exploring the prospect of boosting Philippine tourism and making our country the boxing capital of the world by providing tax incentives to fighters and promoters thereby encouraging foreign boxers to come to our shores and challenge our champions," the lawmakers stated in their resolution.
Villar and Honasan said the heightened interest in boxing may be attributed to the outstanding achievements of the Filipino boxers, including Pacquiao, who recently dominated bigger, taller and heavier Mexican boxer Antonio Margarito throughout their well-watched 12-round encounter in Arlington, Texas.
"The victories of our boxing champion, Congressman Manuel 'Pacman' Pacquiao, has brought great pride and honor to our country," the senators said.
The impressive victory of Pacquiao against Margarito made him as the first fighter in professional boxing history to win eight titles in eight different weight divisions as he won the WBC super welterweight title.
"Hosting world-class boxing events in the country will generate job opportunities, economic benefits, and encourage an atmosphere of lasting peace and unity among our people," Villar and Honasan stated in the resolution.
Aside from Pacquiao, other current Filipino world boxing champions include Nonito Donaire (IBF/IBO flyweight), Gerry Penalosa (WBO bantamweight) and Donnie 'Ahas' Nietes (WBO minimum weight).
For drawing an almost 50,000 crowd at the Cowboys Stadium, Pacquiao has been described by several boxing writers as the pay-per-view champion as his fight against Margarito has reportedly generated at least 1.15 million buys and $ 64 million domestic PPV revenue.
Not a few boxers, including Juan Manuel Marquez and Shane Mosley, have expressed interest to fight Pacquiao, although the promoters are still hoping to stage a mega fight that the world wanted to see against undefeated Floyd Mayweather Jr.
Pacquiao's camp has already expressed interest to fight Mayweather but the American champion continued to elude the Filipino boxing sensation. (PNA)