By Leonel Abasola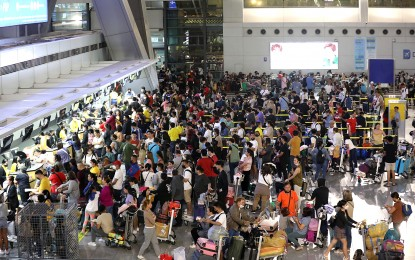 MANILA – The privatization of Ninoy Aquino International Airport (NAIA) and other airports would not solve the worsening condition of these facilities, Senator Risa Hontiveros said on Sunday.
Instead of pushing for the airports' privatization as proposed by fellow legislators, Hontiveros suggested that the government should focus on improving management and greater accountability of local airports.
"Privatization is not the correct prescription to solve the worsening problems of service within our airports," Hontiveros said in a news release.
Operations at NAIA and other local airports will never improve even if the private sector runs them unless management systems are reformed, she said.
Hontiveros issued the statement after some colleagues in the Senate brought up the idea of privatizing the airport.
Senate President Juan Miguel Zubiri even suggested allowing a foreign firm to run the problematic airport.
But the opposition solon disputed such a claim, adding that allowing international firms to manage the airport does not guarantee better services. Worse, they could bring additional toll on the traveling public.
She said well-maintained airports around the world like Doha's Hamad International Airport, Tokyo's Haneda International Airport, Korea's Incheon International Airport, Paris' Charles de Gaulle, and Istanbul Airport are all managed by their respective states.
"The majority of the best airports in the world remain state-owned. There are plenty of good practices in airport operations for us to emulate if the government is indeed serious about fixing our airports," Hontiveros said.
The senator echoed the earlier call of House Deputy Speaker Ralph Recto and other officials for an immediate technical system audit of NAIA operations so the government can proactively identify and address its weaknesses.
Manila International Airport Authority officer-in-charge Bryan Co said in a statement Friday that with the assistance of power distributor Manila Electric Company (Meralco), the electrical audit of the NAIA Terminal 3 has started following an outage on May 1 that disrupted flights and affected about 9,300 passengers.
Meralco said the outage was caused either by faulty wiring or short circuit, which resulted in a high amount of power current and fault indicator. (With reports from Leonel Abasola/PNA)