By Leonel Abasola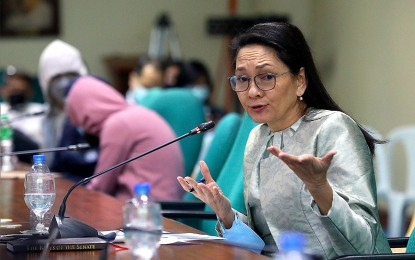 MANILA – Senator Risa Hontiveros on Wednesday called on government agencies to track down "scam call centers" employing foreigners trafficked into the country.
Hontiveros renewed the call after an Indonesian national sought her help after he was duped to work in the country to scam his fellow Indonesians.
"Sadly, right under our very noses, the Philippines is hosting its very own scam hubs," Hontiveros said as she opened the hearing of the Senate Committee on Women, Children, Family Relations and Gender Equality.
She said large condominium buildings are being repurposed as living and working facilities for those trafficked persons forced to perform scams on hapless victims.
Hontiveros said these trafficked persons, who are now by the thousands, came from Vietnam, Cambodia, Myanmar, Indonesia, countries in Africa and countries in South Asia.
Last year, Hontiveros exposed a large-scale human trafficking operation that targeted Filipinos looking for jobs abroad. The OFWs were then forced to work as scammers in Myanmar and Cambodia.
"A humanitarian crisis is taking shape. A mass of desperate humanity. Human beings of the world are being hurt, abused and used in order to perpetrate fraud. Nananakit ng kapwa para manloko ng kapwa," (Hurting others to fool others) Hontiveros said in a statement.
At the hearing, Ridwan (not his real name), an Indonesian national, said he applied to work in the Philippines as a digital marketer and discovered later that the job was to scam fellow Indonesians to invest in fraudulent cryptocurrency investments.
He arrived in the country on March 7. He said he was greeted by an escort who helped him and two other Indonesians seamlessly pass through the Bureau of Quarantine and the Philippine immigration counters. They were later brought to Bayport West NAIA Garden Residence.
"We were instructed to steal the identities of other people to scam targets. Our targets are our fellow Indonesians. We find them on Tinder, Facebook, and Instagram. After our targets fall in love with us, we make them invest in cryptocurrency. When we do not get victims, we will get punished," Ridwan told the committee.
He said fellow workers were electrocuted and punished severely when they failed to do their jobs.
Ridwan said he wanted to leave immediately, but he was asked to pay the PHP100,000 that the company spent to bring him to the Philippines. He left the premises on March 13.
"It is frightening that these criminal activities have been made easy by social media platforms. But it is even more frightening to hear how effortless foreigners can get into the country, with the aid of unscrupulous airport or immigration officials. This is a serious national security concern that we must urgently address. We cannot allow these syndicates to turn our country into outlaw territory," Hontiveros said. (With a report from Leonel Abasola/PNA)