By Wilnard Bacelonia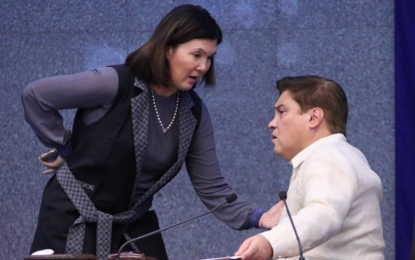 MANILA – A resolution was jointly filed by Senate President Juan Miguel Zubiri and Senator Pia Cayetano seeking to probe the viral road rage incident in Quezon City involving an armed former police officer and an unarmed cyclist.
The two senators, through the Senate Resolution No. (SRN) 763, asserted that the incident involves public order and safety, particularly "road sharing," a concept that they said is often ignored by motorists.
"This is a serious case involving public order and safety, which cannot simply be settled amicably and swept under the rug," Cayetano and Zubiri said in a news release on Wednesday.
Under the road sharing concept, all Filipinos have an equal right to access public roads — including pedestrians, commuters, cyclists, motorcycle riders, and motorists.
"The issue also highlights the safety of cyclists on the road, and the issue of road sharing, a concept that remains ignored by and alien to many Filipino motorists, which means that one must share in the responsibility of ensuring everyone's safety, as everyone has an equal right to access public roads," SRN 763 read.
Cayetano and Zubiri also pointed out that the Philippines is committed to uphold Sustainable Cities and Communities (SDG 11), which seeks a safe, inclusive, sustainable, and progressive society for all.
"It is vital that we protect our cyclists traversing in traffic through the provision of physical barriers to ensure their safety, which is encapsulated in Senate Bill No. 1290, entitled the Walkable and Bikeable Communities Act," the resolution said.
Planning to file more cases against the former police officer, the Philippine National Police, as well as Quezon City Mayor Joy Belmonte, encourage the cyclist to come forward and file a formal complaint.
Belmonte also vowed to protect and assist the cyclist in filing these cases.
House probe
At the House of Representatives, 1-Rider Party-list Representatives Ramon Rodrigo L. Gutierrez and Bonifacio L. Bosita have filed House Resolution (HR) No. 1231 calling for the investigation of the road rage incidents.
"This is not an isolated incident. Kung may mga opisyal na mapang-abuso sa riders, hinding hindi ito palalampasin ng 1-Rider Party-list (If there are officials who abuse riders, 1-Rider Party-List won't shrug them off," Gutierrez said.
In June 2023, a Quezon City prosecutor harassed and intimidated a rider by brandishing his firearm. The incident was caught on video clearly showing him hitting the rider while holding his gun.
Under HR 1231, the act of brandishing a gun in front of any cyclist or rider is a form of coercion and abuse of authority.
Less than a month later in August 2023, a dismissed cop was also caught in video likewise brandishing his gun, cocked it and then hit the cyclist furiously.
The two authors said it is just appropriate that these incidents are investigated by the House of Representatives so that the lawmakers could improve the existing laws regulating gun ownership and putting up stricter limitations to protect the riders from harassment and other abuses.
"Malakas ang loob nilang manindak kasi kumpiyansa sila na madali lang makalusot. Kung gano'n, may mali na talaga sa sistema (They can easily threaten people because they are confident that they could do away with it so easily. If that's the case, then there's something wrong with the system)," Gutierrez said.
Gutierrez and Bosita said they look for possible amendments to the current gun regulations, or maybe they need graver penalties against those abusive gun holders whether they are still active law enforcers or retired.
The two lawmakers cited in the resolution the government's primary duty which is to serve and protect the people, to maintain peace and order, and to promote the general welfare of the people.
"The audacity of these individuals to exert intimidation using firearms stem from a culture of impunity that shall not be condoned," the resolution read. (with reports from Zaldy De Layola/PNA)