The message to decrease sodium intake has been going out for quite some time – but what does it really mean when it comes to making daily food choices?
The newly released 2010 Dietary Guidelines for Americans include a decrease in the sodium recommendation for most Americans from 2,300 mg per day (about one teaspoon of table salt) to 1,500 mg per day (about 2/3 teaspoon of table salt) in an effort to combat the health risks associated with excess sodium consumption.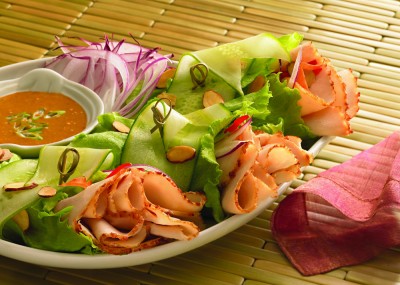 While this may seem difficult to achieve, Boar's Head has partnered with Registered Dietitian Alyse Levine, member of the American Dietetic Association and Nutrition Advisor to Livestrong.com, to provide Americans with five simple tips to help shake the salt without compromising on flavor. "The key," says Levine, "is to keep it F.R.E.S.H."
Favorites: Don't assume you have to forgo your favorite foods. It's all about moderation, not deprivation. Not only are fresh fruits and vegetables naturally low in sodium, fat and sugar, but so are many varieties of fresh-sliced deli meats, poultry, fish, unsalted nuts and nut butters and unprocessed grains, like brown rice, whole wheat pasta and quinoa.
Rinse: When eating canned foods such as beans or vegetables, rinse in a colander to remove some of the salt before preparing or serving. As for frozen vegetables, look for ones that don't have any added salt or sauces.
Eat out less: And be aware when you do eat out by checking nutritional information online before making decisions. Ask about salt added to food, especially at restaurants, as many restaurant chefs will omit salt if requested. Also, choose foods without sauces or ask for sauce and salad dressing to be served on the side.
Shop smart: Look for "no salt added" or "low sodium" on product packages. Fresh sliced deli meats and cheeses are great because of their convenience, but make sure to select lower sodium versions. Boar's Head is a leading brand with a complete line of lower sodium deli meats and cheeses that pack great flavor without a wallop of sodium. Also, opt for products with shorter ingredient lists – the shorter the list, the less processed.
Herbs: Prepare foods using fresh or dried herbs, spices, zest from citrus fruit and fruit juices to jazz up meals. Fresh herbs may be more expensive than dried, but their flavor is far superior in the way of color and texture. And they provide a robust addition to your meal. Instead of boiling vegetables with salt, try roasting with a little olive oil or steaming.
For more low-sodium recipes like this one, visit www.boarshead.com/lowersodium.
Chicken Lettuce Wraps
Ingredients:
3 ounces Boar's Head Golden Classic® 42% Lower Sodium Chicken Breast
1 ounce red onion, shaved
1 ounce red peppers, julienned
3 whole Bibb lettuce leaves
1 ounce almonds, roasted, thinly sliced
3 thin slices cucumber (sliced longwise)
½ teaspoon scallions, julienned
Directions:
Spread the lettuce leaves on a plate. Then, layer the Boar's Head Golden Classic 42% Lower Sodium Chicken Breast, onions and red pepper evenly over the leaves. Sprinkle ¼ of the almonds on each lettuce bundle. Roll the lettuce bundle by bringing one end over the other, and wrap each bundle with one slice of cucumber. Secure with a toothpick. Garnish with remaining toasted almonds. (Family Features)