Manny Pacquiao will defend his WBO welterweight title against Shane Mosley on May. 7 in an HBO pay-per-view fight from the MGM Grand Hotel in Las Vegas, Mosley told FanHouse Tuesday evening.
The 32-year-old Pacquiao (52-3-2, 38 knockouts) also holds the WBC junior middleweight (154 pounds) belt, but that is not on the line, according to Mosley (46-6-1, 39 KOs) and Top Rank Promotions CEO Bob Arum.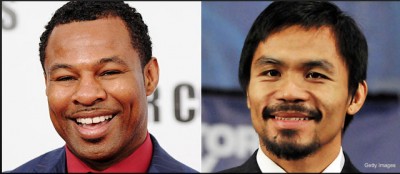 "It's done. I'm fighting Many Pacquiao on May 7," said the 39-year-old Mosley.
"We came to an agreement today, in fact, just a few minutes ago. Bob Arum, James Prince and I," said Mosley. "We sat down, and we came to an agreement. The only thing that I have to do now is to sign it. Bob Arum is writing it all up right now."
Mosley was the main subject of conversation as the next opponent for the WBO welterweight champ during last week's meetings between Pacquiao, Arum and Pacquiao's adviser Michael Koncz. It produced a counter proposal that had been presented to Mosley's adviser James Prince for approval, Koncz told FanHouse on Tuesday.
Reached in the Philippines, Koncz told FanHouse that he had not yet heard from Arum, and that Pacquiao still needed to approve of the contract even though Mosley's side was in agreement.
Mosley was chosen over 37-year-old WBO and WBA lightweight king Juan Manuel Marquez (51-5-1, 38 KOs) and 27-year-old WBC welterweight belt-holder Andre Berto (27-0, 21 KOs), Mosley said.
Mosley also confirmed that his purse, up front, stands to be around $5 million against Pacquiao. But with incentives, Mosley could wind up earning a career-high amount, surpassing the previous career-best of $7 million that he pocketed after his unanimous decision loss to Floyd Mayweather (41-0, 25 KOs) back in May, who received a non-heavyweight record guarantee of $22.5 million.
"That's still accurate. We came to an agreement with everything involved, including the financial end of it," Mosley said of the numbers pertaining to his purse.