By Jenny Harper
These Heavenly Heart-Shaped Pancakes don't take a lot of time to make, so everyone can enjoy a warm breakfast and good conversation. Sounds heavenly!
There are plenty of other simple ways you can show your love all day long: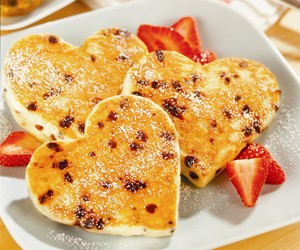 Dress It Up – Instead of the everyday dishes and placemats, why not dress up the table with the good stuff? Set a pretty table and sprinkle it with heart-shaped confetti to make the whole family feel special. A candlelit breakfast – why not?
Write Love Notes – Leave little notes around the house that tell your family some of the many reasons you love them. "I love your sense of humor!" "You give the best hugs." "I'm proud of who you are." There are lots of little things you can say to make a big impact on others.
Create Some Togetherness – Some days are so busy that it's hard to tell whether you're coming or going. So set aside some time to do something as a family – play a favorite board or card game; bake some heart-shaped cookies and enjoy them with a movie; go through family scrapbooks and photos. Spending time with each other is a great way to show love and make new memories.
For more delicious ways to share the love on Valentine's Day, visit Tollhouse.com.
Heavenly Heart-Shaped Pancakes
Makes 18 pancakes
Ingredients:
2 1/2 cups all-purpose flour
1 cup (6 ounces) Nestlé Toll House Semi-Sweet Chocolate Mini Morsels
1 tablespoon baking powder
1/2 teaspoon salt
1 3/4 cups milk
2 large eggs
1/3 cup vegetable oil, plus more for the griddle and cookie cutters
1/3 cup packed brown sugar
3-inch heart-shaped metal cookie cutters (optional)
Powdered sugar
Directions:
COMBINE flour, morsels, baking powder and salt in large bowl. Combine milk, eggs, oil and brown sugar in medium bowl; add to flour mixture. Stir just until moistened (batter may be lumpy).
HEAT griddle or skillet over medium heat; brush lightly with oil. Pour 1/4 cup batter onto hot griddle into the shape of a heart; cook until bubbles begin to burst. Turn; continue to cook about 1 minute longer or until golden. Repeat with remaining batter. (For perfectly shaped pancakes, brush inside of cookie cutters with oil; place on griddle. Pour about 1/4 cup batter into the cookie cutters and cook until bubbles begin to burst. Remove cookie cutters. Turn; continue to cook about 1 minute longer or until golden.)
SPRINKLE with powdered sugar before serving.
Nutrition Information per serving: 210 calories; 90 calories from fat; 10g total fat; 3.5g saturated fat; 25mg cholesterol; 150mg sodium; 27g carbohydrate; 1g fiber; 12g sugars; 4g protein. (Jenny Harper is Consumer Test Kitchen Project Manager for the Nestlé Test Kitchens and VeryBestBaking.com, Family Features)