You know that one actress, that one neighbor, that one girl in the cubicle next door with the super shiny hair? How does she do it?
I mean, we take good care of our locks, keep them clean, slather them with conditioner, and even shield them from the sun. Yet, as hard as we try, our hair still doesn't look as glossy as hers.
To end our envy once and for all, we consulted top stylist Jade Perry from the renowned Sally Hershberger Salon in Los Angeles.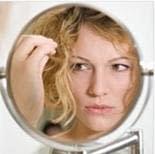 "There are several reasons some women have shiny hair while others struggle with drab, dull locks," said Perry. "Often it has to do with the texture of your strands — straight hair tends to look shinier than curly hair. Also, darker hair tends to look shiner than lighter hair due to the way light reflects off it."
Shininess can also have something to do with the overall health of your hair -– chemical services such as coloring or straightening can dry hair out and make it lackluster. Styling products such as gels and hair sprays that contain alcohol also strip away shine.
Other dulling factors include age, sun exposure, changes in the body, and pollution.
Fortunately there are ways for shiny-haired wannabes to bring out our most lustrous locks.
Shu Uemura Art of Hair Full Shimmer Illuminating Treatment: "This is the best salon treatment!" said Perry. It blends musk rose oil with anti-oxidizing agents to give incredible shine. "I recommend it to my clients every other haircut. Mark my words, it's life changing."
L'Oréal Professionnel INOA: This new color line is ammonia-free and gives amazing coverage. In addition, it has a conditioning quality that gives remarkable shine.
Diet: What you put into your body is going to have more of an impact on shine than what you put on your hair, according to Perry. Fish is great due to omega fatty acids; green leafy vegetables and fruits like blueberries and pomegranate are also beneficial. Be sure to get a healthy daily dose of vitamins A, C, and E as well as biotin.
Shu Uemura Art of Hair Full Shimmer Illuminating Shampoo: This shampoo is mixed with fatty acids to thoroughly cleanse and give hair great shine.
Shu Uemura Art of Hair Full Shimmer Illuminating Conditioner: Packed with vitamin A, this conditioner is super nourishing.
Sally Hershberger Salon Smooth Fix: This finishing spray is formulated with a micro-sheer silicone-polymer blend to provide glossy shine.
Brushing your hair is also good for shine, as it brings out the natural oils in your scalp and promotes hair growth. "The right brush is key," said Perry, who recommends a Mason Pearson.
Other natural ways to bring out shine are to skip the shampoo and blow-dryer occasionally – both can dry tresses and strip them of natural oils. And, try a cold rinse in the shower. It closes the cuticle, leaving a smooth, shiny surface.