By Alexander Lopez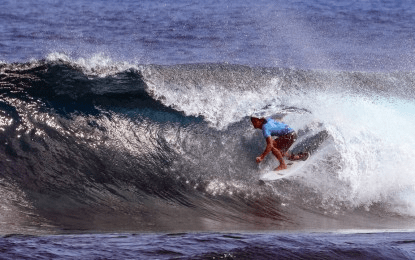 BUTUAN CITY – It's a back-to-back win for John Mark Tokong of Siargao Island after capturing the championship crown of Men's Category of the 27th Siargao International Surfing Cup on the final day of the competition on Wednesday afternoon at the Cloud 9 Surfing Site in General Luna, Siargao Island.

Tokong garnered 16.2 points in the final round, defeating his closest rival in the competition Joh Azuchi of Japan, who reaped 10.95 points.
Tokong also captured the crown of the 26th Siargao International Surfing Cup last year.
The international surfing tourney opened on Oct. 25 with more than 100 professional surfers from different countries participating. It is categorized as Qualifying Series (QS) 3000 and sanctioned by the World Surf League (WSL).
The Women's Category of the competition was also captured by Anon Matsuoka of Japan with 12 points in the final round, defeating Nilbie Blancada of Siargao Island.
In a statement on Thursday, the WSL said Tokong moved up to 12th in ranking in Asia after winning the Siargao tourney.
Tokong's win went ahead of the upcoming Taiwan Open of Surfing QS 5000, which will start next week.
In a separate statement on Thursday, Surigao del Norte 1st District Rep. Francisco Jose Matugas II said Tokong's victory "made our island and country proud. Thank you for showing to the world the competence and skills of Siargao surfers." (PNA)