By Jason Gutierrez
MANILA, February 20, 2011 (AFP) – Investigators have found two apparent murder victims at properties owned by a Muslim clan accused of the Philippines' worst political massacre, the country's justice secretary said Sunday.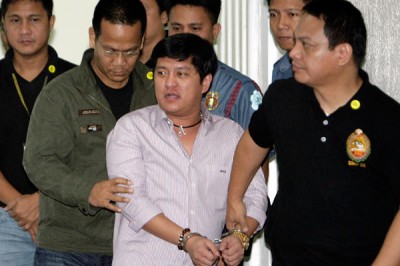 Forensics experts found the skeletons in shallow graves on Friday at a grassy field and a corn plantation owned by the Ampatuan family in southern Maguindanao province, Justice Secretary Leila de Lima said.
De Lima said the two were believed to be past murder victims of the Ampatuan clan, which is also accused of carrying out the killings of 57 people in November 2009 in Maguindanao, a poor province they had controlled for a decade.
"We have information as to their identities but we are still validating them before we can announce (their names) officially," de Lima told AFP.
De Lima said the diggings were not part of the massacre investigation "but refer to past atrocities by the Ampatuan clan and their minions.
"They nevertheless serve to highlight what kind of monsters we're dealing with," she stressed.
"In any case, new charges will be filed once all the investigation and forensic work are completed."
Lawyers for the Ampatuan family were not immediately available to comment on Sunday.
The Ampatuan family had ruled Maguindanao province for a decade under the patronage of former president Gloria Arroyo, who rights monitors said allowed the clan to maintain a large private army as a proxy force against Muslim rebels.
She had also allegedly turned a blind eye to the clan's excesses in exchange for delivering crucial provincial votes to her candidates in past elections.
The 2009 killings – the worst political massacre in Philippine history – were meant to stop a rival from another powerful family, Esmael Mangudadatu, from running for the provincial governorship.
The victims were relatives and supporters of Mangudadatu, who were to have filed his election nomination papers, as well as at least 32 local journalists who had travelled in the convoy.
Their bodies were later found in shallow pits and Andal Ampatuan Jnr, the clan patriarch's son and namesake, has gone on trial for the killings in Manila, where witnesses have testified he gunned down most of the victims.
Although the death toll is officially 57, a 33rd journalist, Humberto Momay, is believed to have been killed as well.
Confirmation of Momay's death would bring the toll to 58 but the Ampatuans are being prosecuted for only 57 murders because his body remains missing.
Apart from Ampatuan Jr., five other senior clan members, including his father, were among 196 people charged in connection with the crime.
De Lima, who previously headed the country's independent human rights body, had previously said unnamed witnesses had come forward to pinpoint the existence of alleged mass graves around Maguindanao.
She said those graves were believed to contain at least 200 victims of killings carried out by the Ampatuans or their private militia force.
Rights monitors had asked the clan to reply to the allegations of mass killings even before the November massacre, but they had never acknowledged the requests.
Witnesses claimed some of the victims were buried alive, or were killed using a chainsaw, De Lima had said.