By Alexander Lopez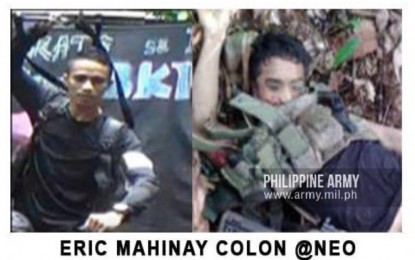 BUTUAN CITY – One of the three leaders of the New People's Army (NPA) in the Caraga Region killed during the encounter on May 11 Cantilan town, Surigao del Sur, disregarded his parents' pleas to surrender peacefully.
Eric Mahinay Colon, the political guide of the NPA Squad 1, Sentro De Grabidad 16 (SDG-16), North Eastern Mindanao Regional Committee (NEMRC), died during a clash in Barangay Lobo, Cantilan, with combined forces of the Army's 30th and 36th Infantry Battalions.

Two other NPA leaders who died in the encounter were identified as Alberto Castaneda, the commander of Sandatahang Yunit Pampropaganda 16C of the weakened NPA Guerrilla Front 16, NEMRC; and Ranjie Pertos, vice squad leader of SDG-16.

"We tried to convince him many times to surrender and go home, but he refused," Arnolfo Colon, Eric's father, said in a video message to the 36IB, a copy of which was obtained by the Philippine News Agency on Wednesday.

The elder Colon said his son once worked in a mining tunnel in their town when he was recruited by the rebels.

"He was with the NPA for almost eight years and gained nothing. We told him to surrender for the sake of his good future, but he continued to refuse," Colon said.
With the death of his son, Colon pleaded with the remaining NPA rebels in the area to accept the offer of the government to surrender.

"It's not too late to decide and go back to your families. The government is offering programs and services to renew your lives," Colon said.

He also thanked the government for assisting his family with the proper burial of his slain son.

Slain NPA leaders Colon and Pertos are from Barangay Mat-i in Surigao City, and Sison town, Surigao del Norte, respectively.

Castaneda, the highest NPA leader killed in the encounter, is from Samar province.

Another NPA leader falls

Meanwhile, the Criminal Investigation and Detection Group in the Caraga Region (CIDG-13) reported the arrest of an NPA leader in a police operation on Tuesday in Barangay Mat-i, Surigao City.

CIDG-13 chief, Col. Joseph Boquiren, identified the arrested NPA leader as Chanlie Embili Godez, of Barangay Magsaysay, Placer, Surigao del Norte.

Godez is described as the political guide of the Sandatahang Yunit Pampropaganda of NPA Guerrilla Front 16C, NEMRC.

Boquiren said Godez has a standing arrest warrant for violation of Republic Act 11479 or the Anti-Terrorism Act issued by the Regional Trial Court Branch 29 in Surigao City.

Godez is also considered the fifth most wanted person in the region, Boquiren added. (PNA)