By Wilnard Bacelonia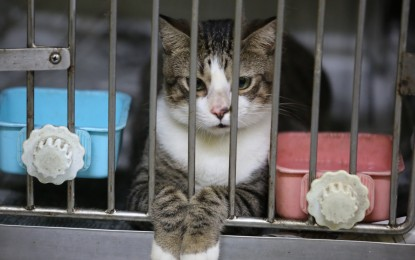 MANILA – A proposed bill was filed in the Senate seeking to repeal Republic Act (RA) 8485, as amended by RA 10631, or the Animal Welfare Act and strengthen animal welfare standards, policies, rules and regulations, implementation, and enforcement, as well as provide tougher penalties to violators.
Senator Grace Poe, who filed Senate Bill (SB) 2458 or the Revised Animal Welfare Act, said on Tuesday that the measure is also proposing to create an Animal Welfare Bureau (AWB) that would have wider powers in ensuring the promotion of animal welfare in the country and their protection against cruelty.
"Some humans consider their pet animals like a member of their own family. However, not all animals are given the same care and attention. They are sometimes left abandoned, or worse, experience cruelty," Poe said.
She said the AWB, which shall have city, municipal, provincial, and regional offices, will be placed under the Department of Agriculture as its mother agency.
It shall provide minimum standards on the appropriate food, water, and shelter for each species of pet and animal depending on the age, breed, size, and special needs of the animals.
In consultation with concerned transport regulating agencies, experts, and animal welfare groups, the AWB will also set a species-specific standard for the transportation of animals to ensure they remain in safe condition.
An emergency animal response and rescue system will be established to appropriately respond in cases of calamities, such as but not limited to floods, earthquakes, and other natural disasters.
The AWB will also promulgate guidelines for the humane slaughter of animals in consultation with the National Meat Inspection Service, local government units, and other concerned government agencies.
Apart from implementing a system for inspection of animal facilities to ensure compliance with animal welfare standards and regulations, the AWB shall also monitor the compliance of the local government units with animal welfare programs, standards, rules, and regulations.
Proper coordination with non-government organizations, people's organizations, and academe will be ensured for the strict implementation of the rules and regulations issued.
The proposed bureau shall have the power to issue, suspend, or cancel permits or certifications based on the purposes of the measure.
It can also levy and collect fees for registration, certification, inspection, monitoring systems and other fees as it may deem necessary for the effective implementation of the law.
RA 8485 or the Animal Welfare Act, as amended by RA 10631, tasks the Bureau of Animal Industry (BAI) to supervise the law's implementation.
However, Poe said BAI is a staff bureau that primarily performs policy, program development, and advisory functions, and is without control over regional and local veterinary services, animal production, and animal welfare, which significantly impairs its implementation and enforcement of the Animal Welfare Act.
"Despite this law on animal welfare, some individuals continue to defy and ignore its implementation. Animal cruelty, killing, and eating, particularly dogs, still exist in our society today," Poe said.
"May kaso ng kalupitan sa mga hayop saan man tayo bumaling. Panahon na para lagyan natin ng pangil ang batas para matigil na ang pang-aabuso (Cases of animal cruelty are being committed anywhere. It is time to strengthen the law to stop this abuse)."
If passed into law, SB 2458 shall impose a penalty of imprisonment from one year and six months to three years, and a fine of not less than PHP30,000 but not more than PHP100,000 for any person found subjecting any animal to cruelty, maltreatment, or any of the prohibited acts under the measure.
Abandonment of animals, operating an animal facility without permits, and use of animals for shows, research, or scientific purposes without the required permission are also subject to corresponding penalties.
Dog meat trading shall be punished with a penalty of not less than PHP5,000 per dog and imprisonment of one to four years or both. (PNA)