By Wilnard Bacelonia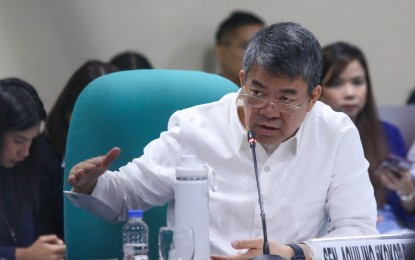 MANILA – Senate Minority Leader Aquilino Pimentel III on Thursday urged the families of the three fishermen who died in the collision of FFB Dearyn and crude oil tanker MT Pacific Anna off the waters of Pangasinan not to prolong the process and just come up with a settlement.
Pimentel made the appeal during the motu proprio investigation on the incident by the Senate Special Committee on Maritime and Admiralty Zones.
He said that with the evidence presented, along with the theory of the Philippine Coast Guard (PCG), what happened might have been an accident which can be settled in accordance with international law.
"Accidents do happen. Posible namang aksidente ito eh (It's possible that this is an accident). If it's a pure accident, does anybody have to go to jail? Hindi (No). But we have to compensate those damaged, at huwag na nating i-dribble o patagalin masyado (and we don't need to prolong it)," Pimentel said.
"Actually, should the victims be entitled to a certain amount, international law does not prevent the payment of the entire amount or an initial amount," he added, suggesting that the owners of MT Pacific Anna can "advance" an amount, and the balance can follow after the company is convinced of its liability to the Filipino fisherfolk.
Pimentel noted that the MT Pacific Anna did not turn off its transponder to maintain its visibility to radar, citing it as a sign of "good faith" on the side of the foreign vessel.
The PCG confirmed that it is continuously monitoring the movement of the Marshall Islands-registered crude oil tanker, which was last monitored to have docked at Kidurong, Malaysia and currently off the waters of the said country.
Meanwhile, PCG Maritime Safety Services Commander Vice Admiral Joseph Coyme told the Senate panel that FB Dearyn is now being towed towards Subic, Zambales, and their fact-finding investigation report will be completed a week after the arrival of the fishing boat.
"This piece of evidence is very important for us because we will conduct inspection and at the same time, examine those scab marks found on the hull of the FB Dearyn and be subjected to forensic examination," Coyme said.
The final report, he said, will then be submitted to the Department of Foreign Affairs for appropriate diplomatic actions.
Republic of Marshall Islands Deputy Commissioner for Maritime Affairs Capt. Leo Bolivar, who is also a Filipino and present during the hearing, assured that he will bring the matter up to his superiors.
"We will have it discussed with Majuro (capital of Marshall Islands) whatever was raised and whatever was discussed here," Bolivar said.
He also told the committee that MT Pacific Anna is operated by Sinokor Merchant Marine, and owned by Compass Shipping 28 Corporation Ltd. based in Seoul, South Korea. (PNA)