By Wilnard Bacelonia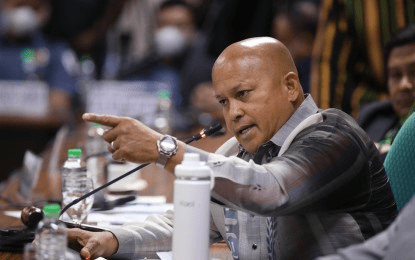 MANILA – Senator Ronald "Bato" dela Rosa has called visiting UN Special Rapporteur on human rights in the context of climate change Ian Fry' as "one of the most misinformed foreigners."
This after Fry called for the abolition of the National Task Force to End Local Communist Armed Conflict (NTF ELCAC) based on allegations of violations against environmental human rights defenders.
Dela Rosa made the statement while defending the proposed 2024 budgets of the Office of the Presidential Adviser on the Peace, Reconciliation and Unity (OPAPRU), Dangerous Drugs Board (DDB) and the Philippine Drug Enforcement Agency (PDEA) before the Senate plenary Wednesday night.
"That is why we are in quandary right now, Your Honor. NTF-ELCAC is all about good governance and delivery of basic services to the communities and they are not involved in armed confrontation with the enemies of the state. Why are they lambasting the NTF-ELCAC? Maybe they are being fed with wrong information," Dela Rosa said, assuming that the rapporteur was not able to consult with the government before making his call.
He also confirmed that OPAPRU was not involved in the visit of the UN official.
"Had they been involved, for sure, magbabago iyong paningin noong foreigner na iyon sa NTF-ELCAC (that foreigner's view of the NTF-ELCAC will change). They will be informed accordingly," Dela Rosa said responding to Senator Francis Tolentino's query.
Earlier, National Security Adviser Secretary Eduardo M. Año, who is concurrent vice chairman of the NTF ELCAC, took strong exception to the call made by Fry, saying the visiting UN Special Rapporteur "did not find time" to raise his concerns with NTF-ELCAC "to ensure that he has a full appreciation of the body's mandate, operations, and overall directions."
"We could have helped him define it in his study. Specifically, we would have been able to provide valuable inputs on how the NTF-ELCAC has brought peace and development in far-flung communities, many of which are indigenous cultural communities greatly affected by the impact of climate change, apart from being victims of violent extremists and terrorists," Año said in a statement.
"In the absence of this clarificatory engagement with the NTF-ELCAC, Fry's report must be deemed incomplete. Clarity in context is required to enrich his report and render the same relevant."
Dela Rosa, meanwhile, was able to defend the proposed 2024 budgets of the OPAPRU, DDB, and PDEA amounting to PHP7 billion, PHP334 million and PHP4.07 billion, respectively.
The lawmaker also answered queries on the Moro Islamic Liberation Front's reintegration to society, the PHP70 billion block grant and Special Development Fund of the Bangsamoro Autonomous Region in Muslim Mindanao and its unused funds. (PNA)