By Priam Nepomuceno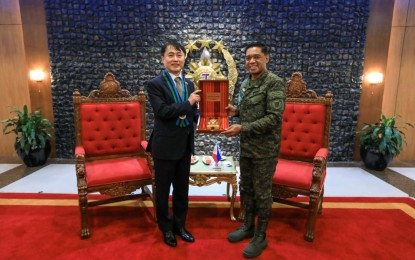 MANILA – South Korea is eyeing stronger defense industry cooperation with the Philippines, whose military forces are currently undergoing modernization.
This was emphasized by Lee Sang-Hwa, Ambassador Extraordinary and Plenipotentiary of the Republic of Korea to the Philippines, during his introductory call to Armed Forces of the Philippines (AFP) chief Gen. Romeo Brawner Jr. at Camp Aguinaldo, Quezon City on Tuesday.
"Defense industry cooperation goes deeper. It should be based on long-held trust. We are confident that there will be a stronger collaboration," the South Korea diplomat said in a statement.
Lee also highlighted the longstanding friendship between the Philippines and South Korea, as he expressed his hopes of strengthening collaboration among like-minded nations and making more contributions to the Philippines' endeavors to promote a free Indo-Pacific.
South Korea has been a major player in the ongoing AFP modernization program, and is instrumental for supplying the 12 FA-50PH light jet fighters which the Air Force has been using for air defense and other missions.
Its shipyards also provided the Navy with its first two missile frigates which are being utilized for maritime patrols off the West Philippine Sea. Two more corvettes and six offshore patrol vessels are expected to be delivered within the next three to five years.
Meanwhile, Brawner said the AFP is honored with the visit of the South Korean diplomat.
"We are indeed very honored that you came to visit us. It goes to show the importance and value that you give to the AFP and the relationship of our Armed Forces," he said. "The AFP is also willing to work with our allies and partners." (PNA)