Storms, tornadoes ravage South; at least 213 dead
Tuscaloosa, Alabama (CNN) – Daylight illuminated a scene of utter devastation across many areas of the South Thursday, following storms of near-epic proportions that killed as many as 231 people in six states.
The vast majority of fatalities occurred in Alabama, where as many as 149 people perished, although Gov. Robert Bentley told reporters Thursday there were 131 confirmed deaths.
A breakdown provided by Bentley's office showed that violent weather claimed lives in 16 Alabama counties. Thirty people perished in DeKalb County in northeastern Alabama; the death toll in the hard-hit city of Tuscaloosa, in west-central Alabama, was at 36 as of Thursday morning, said Mayor Walter Maddox.
"I don't know how anyone survived," Maddox said. "We're used to tornadoes here in Tuscaloosa. It's part of growing up. But when you look at the path of destruction that's likely 5 to 7 miles long in an area half a mile to a mile wide … it's an amazing scene. There's parts of the city I don't recognize, and that's someone that's lived here his entire life."
Before dawn Thursday, Mississippi emergency management officials also added 14 previously unreported fatalities to the count, increasing the death toll in that state to 32, officials said. Tennessee emergency officials said 30 people died in that state. Eleven were dead in Georgia, eight in Virginia and one in Arkansas.
Entire neighborhoods were leveled and hundreds of thousands of people were without power in the affected regions. As of 4 a.m. Thursday, Alabama Power said 363,511 customers had no electricity, and as of 8 a.m. Georgia Power said 52,000 customers were without power. Bentley estimated as many as half a million to a million people had no electricity in Alabama.
"This could be one of the most devastating tornado outbreaks in the nation's history by the time it's over," CNN Meteorologist Sean Morris said.Long before the death toll mushroomed, governors in Alabama, Mississippi and Georgia had declared states of emergency within their borders. Virginia followed suit Thursday.
President Barack Obama announced late Wednesday he had approved Bentley's request for emergency federal assistance, including search and rescue support.
Bentley said Thursday he is asking Obama for a major disaster declaration. According to FEMA, such declarations are made when "an incident is of such severity and magnitude that effective response is beyond state and local capabilities and that federal assistance is necessary."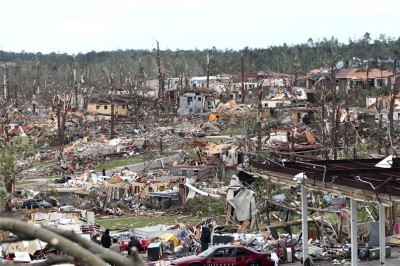 FEMA said in a statement Administrator Craig Fugate was traveling to Alabama on Thursday to meet with Bentley and state and local officials.
The Nuclear Regulatory Commission said it was monitoring the Browns Ferry nuclear power plant near Athens in north Alabama, about 32 miles west of Huntsville, after it lost offsite power Wednesday night due to the storms. The three units at the plant shut down automatically when power was lost, it said. "One of the plant's diesel generators was out of service for maintenance, but the other seven started to power the units' emergency loads," the commission said. "Plant operators and Tennessee Valley Authority line crews are working to restore offsite power to all three units." The Tennessee Valley Authority operates the plant.
TVA spokeswoman Barbara Martocci told CNN no radiation was released as a result of the shutdown, and the plant is currently in a safe shutdown mode.
At least one strong tornado swept through Tuscaloosa, leaving dozens of roads impassable and destroying hundreds of homes and businesses.
Resident James Sykes said the massive twister was "like a silent monster. It was just moving at a steady rate and just demolishing everything in its path."
"It literally obliterated blocks and blocks of the city," Maddox, the Tuscaloosa mayor, said. He told CNN Thursday morning the devastation was "unparalleled … the city's infrastructure has been absolutely decimated."
About 600 people were treated at local hospitals for weather-related injuries, he said. As of about 7 a.m. (8 a.m. ET), 44,000 people in the city were without power.
"We've lost two water tanks on the east side of the city, which is crippling the water supply," he said. "We're facing an overwhelming situation in which we are short of men, materials and equipment." But he said Bentley has been "outstanding" in mobilizing resources.
"We've lost our environmental services," he said. "We've lost police precincts. We've lost fire stations. So our own infrastructure itself, which would deal with these issues, has been crippled. It's just compounding the situation."
Authorities' primary focus on Thursday will be search and rescue, he said, adding recovery efforts are likely 24 to 48 hours away. "Our focus right now is finding citizens who are hurt, finding those who are missing."
He predicted the city could take months to recover from the blow.
"Except for the sirens, it had an eerie quiet this morning," said Brian Wilhite, an internist at Tuscaloosa's Druid City Hospital. "It looks like an atomic bomb went off in a straight line. It's probably close to a mile wide."
He said people flocked to the hospital, many with head injuries and lacerations. "It looked more like a Vietnam War site than a hospital," he said. "I know one physician who watched two people die right in front of him. There was nothing he could do."
The University of Alabama, located in Tuscaloosa, escaped mostly unscathed, but Bentley said some students living off-campus were among the dead, and Maddox said there is a "strong possibility" that that is true. Classes were canceled Thursday.
Bentley activated 2,000 National Guard troops Wednesday night and said he will activate more if necessary.
Witnesses also reported tornado touchdowns in Birmingham, Alabama.
"It looked like it was probably a mile wide," Birmingham Mayor William Bell said of the funnel cloud.
The northwest corner of the city was particularly devastated, he said, with hundreds injured and many others missing.
Red Cross spokesman Chris Osborne said the number of ambulances on the street in Birmingham, "is just like taxicabs in New York."
"It's just back and forth to area hospitals," Osborne said. "It's really just an incredible sight to see."
The Birmingham neighborhood of Pratt City and the suburb of Pleasant Grove were among the hardest hit areas.
"It's just bare land, debris everywhere," Cierra Brown of Jefferson County, where Birmingham is located, told CNN affiliate WBMA-TV about her devastated neighborhood. "There's no house."
"My bathroom is across the street," Talesha Oliver told WBMA.
Henry Nguyen told CNN early Thursday he was working at his father's convenience store on the edge of Pratt City when he saw a twister angling for the front door. He ducked. When he stood up, Nguyen said he saw that the tornado had missed the storefront by 50 yards.
"Houses are gone. It's pretty crazy," Nguyen said. "A gas station up the street is gone. There is nothing else open here."
Pleasant Grove Police Chief Robert Knight said a suspected tornado cut a half-mile swath throught the center of town. He said he expects the death toll – currently at six – to rise.
The University of Alabama at Birmingham Hospital said it has treated 134 people with weather-related injuries since 5 p.m. Wednesday. Forty of them were trauma patients, said spokesman Clinton Colmenares.
Several meteorological conditions combined Wednesday to create a particularly dangerous mix, CNN's Morris said.
"It is tornado season, but an intensive event like this only will occur maybe once or twice a year," he said. "It's very rare to have all these ingredients come together."
Reports of people trapped in homes or overturned vehicles were coming in from every state in the region, according to emergency management officials.
The town of Ringgold, Georgia, about 17 miles southeast of Chattanooga, Tennessee, was hit particularly hard, officials said. The storm also unleashed as many as 80,000 chickens in Pickens County, Georgia, after four huge coops were destroyed.
The storms are being compared to the "super outbreak" of tornadoes April 3 and 4, 1974, Fugate, the FEMA administrator, said Thursday. In that period, 148 tornadoes were reported in 13 states, and 330 people died. States affected were Alabama, Georgia, Illinois, Indiana, Kentucky, Michigan, Mississippi, North Carolina, Ohio, South Carolina, Tennessee, Virginia and West Virginia.
FEMA is responding to a number of disasters nationwide, including wildfires in Texas and flooding in several states, including some Southern ones also hit by storms. But, Fugate said, the agency has "to be prepared for concurrent multiple disasters occurring in this country."