It has long been known that Octoberfest is one of the world's largest (if not the largest) funfair held annually in Bavaria, the southern part of Germany.  It is a 16-day festival which usually runs from late September to the first weekend in October, with around 6 million people worldwide participating in the event  It has been a significant part of Bavarian culture, "having held it since 1810. This was a time when life was hard and farmers plowed their horses day and night, when the reigning Prince Ludwig I had preparations for his upcoming marriage to Princess Therese of Sachsen-Hildurghausen.
The grand wedding was to take place on the 12th, right in the middle of the farmers' harvest time." The wedding was to be held in a spectacular place called 'Wiese' or meadow, which was just outside the gates of Munich." As the big event approached, the whole town of Bavaria  though exhausted from their harvest work, planned on attending the grand wedding as this was their last chance of celebrating before the cold, winter days ahead. Thus, when the wedding took place, there were around 40,000 guests in attendance. It became the largest party in history which impressed the Prince, so he decided to treat his subjects with an impromptu horseracing in the great meadow,"  which eventually was renamed "Theresewiese" or Therese's meadow, in honor of Prince Ludwig's bride. And to this day, the townspeople of Bavaria still celebrate this tradition. when Bavarians consume large quantities of Octoberfest Beer with "almost 7 million liters served."
Visitors to the festival experience not only a variety of entertainment but also various amusement rides, games and delicious traditional food. including: Sauerkraut or Rotkol Blaukraut (red cabbage), Hendl (roast chicken), Sweinerbraten (roast pork), Sweinshaxe (grilled ham hock), Steckelrfiche ( grilled fish on a stick), Wurstl ( sausages) along with Brezen (pretzel), Knodel ( potato or bread dumplings), Kisseputzle ( cheese noodles),  Reibersatschi (potato pancakes) and various other delicacies such as: Weisswurst (white sausage) or Obatzda (a spiced cheese butter spread).
In the Los Angeles area of South Bay, the Alpine Village in Torrance celebrate Octoberfest thorughout the month. However, other Southern Californians have similar festivities by driving through the winding roads of the scenic Big Bear Lake area. This writer has experienced Octoberfest celebrations in both venues and they similarly offer the same beer flowing merriment along with additional hangovers later on.
A couple of weeks ago, this writer also attended the 56th Annual Greek Fest which was held at the Santa Anita Fairgrounds with some friends. Each year, we learn that the Greek community in San Gabriel Valley showcase their culture to benefit St. Anthony's Greek Orthodox Church and we were priveleged to meet its Pasttor, the Reverend Fr. Peter Stratos.
Greek culture as we all know from history,  has made "a lasting impact in ancient times,"  from the alphabet to our spoken word,, to politics, philiosophy, to religion, to mathematics, to medicine and sports, as we have all learned about Plato, Socrates, Alexander the Great, Pythagoras and the Spartans.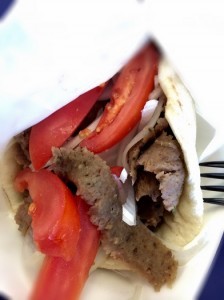 During the festival, my friends, Joanne, Frances, Pam and her husband Jerry and this writer, savored on various delectable Greek food such as: Gyros, Feta Fries, Souvlaki Kalamaki & Pita, Loukaniko, Keftedes, Dolmathes and Saganaki, along with delicacies such as Baklava, Galaktobouriko, Koulourakia, Melomakarona and Kourambiethes, Music and entertainment was provided by a band called the Olympians, Bouzouki (Greek guitar) players were: Louis Skoby and Vasilis Spanos and vocalsts: Takis "Kokotas" Stahoulis and Aphrodite Wasserou. It was a lovely day of merrymaking which included the various Greek children's folk dance groups whose mission is to "cultivate their cultural heritage through dance ."
Apparently, St. Anthony's dance programs began in 1984 and is "still going strong  due to the dedication of parents, dancers and the many volunteers who help with handmade costumes whose fabrics and materials are all purchased in Greece."
Cultural heritage festivals such as these, are always enlightening to go to and be a part of,  in order to lenable us to live harmoniously in a diverse community.