By Ferdinand Patinio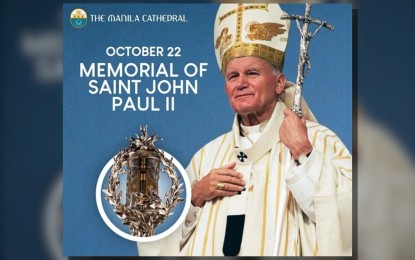 MANILA – The faithful, especially devotees of St. John Paul II, will again have the chance to venerate his blood relic on Sunday at the Minor Basilica of the Immaculate Conception, more popularly known as the Manila Cathedral, in celebration of the saint's feast day.
"This coming Sunday, it's the feast of St. John Paul II, we will again be exposing his blood relic (to the public) for veneration inside the Christ the King chapel (inside the basilica)," vice rector Fr. Vicente Gabriel Bautista said on Friday.
"The veneration is only for one day since it is the saint's feast day," the Catholic priest added.
He said public veneration of the blood relic will be until 7:00 p.m., the closing time of the cathedral.
The former pope's relic is the only one of its kind in the country.
Asked if the relic is miraculous, Bautista said there was one story of someone who asked for a child.
"The couple prayed in front of the relic, then they were given a child," he said.
"Several friends of mine asked if they could venerate the relic during their preparations for World Youth Day. Before going to the embassy, some of them asked to pray in front of the relic. Majority of them got their visas accepted," he added.
World Youth Day is an event for young people that was initiated by Pope John Paul II in 1985.
St. John Paul II was canonized as a saint in 2014. (PNA)