By Joyce Ann L. Rocamora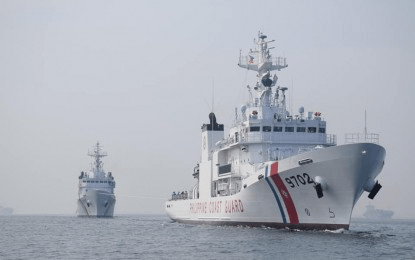 MANILA – The United States government on Saturday reiterated its full support for the Philippines in the face of China's "repeated harassment" in the South China Sea (SCS).
The statement was issued in the wake of the latest Philippine resupply mission to Ayungin Shoal where a Chinese Coast Guard (CCG) vessel used a water cannon on one of the Filipino ships to force it to change its course.
"The United States stands shoulder-to-shoulder with our Philippine ally in the face of the People's Republic of China's (PRC) repeated harassment in the South China Sea," the State Department said.
"The PRC's actions are inconsistent with international law and follow a pattern of dangerous operational behavior in the South China Sea."
Washington, D.C. underscored anew that the 2016 Arbitral Award on the South China Sea is "legally binding on both the Philippines and PRC" and has "made clear that the PRC has no lawful territorial or maritime claim to Second Thomas Shoal."
"We urge the PRC to respect the high seas freedoms of navigation guaranteed to all States under international law," it said.
"The United States reaffirms that Article IV of the 1951 US-Philippines Mutual Defense Treaty extends to armed attacks on Philippine armed forces, public vessels, or aircraft – including those of its Coast Guard – anywhere in the South China Sea."
The Philippine supply boats on Friday completed the resupply mission to the Philippine Navy ship BRP Sierra Madre (LS-57), which is standing guard at the Ayungin Shoal, despite the harassment.
"At 0730H (7:30 a.m.) today, 10 November 2023, CCG and Chinese maritime militia vessels recklessly harassed, blocked, and executed dangerous maneuvers in another attempt to illegally impede or obstruct a routine resupply and rotation mission to BRP Sierra Madre at Ayungin Shoal. CCG vessel 5203 deployed a water cannon against Philippine supply vessel M/L Kalayaan in an illegal though unsuccessful attempt to force the latter to alter course," the National Task Force – West Philippine Sea said in a statement. (PNA)