DALLAS – Green Bay is a football haven, charm oozing from every icicle and snow pile.
But even the most charming of Titletowns has its fringe elements. In 2008, quarterback Aaron Rodgers was booed in his first practices and in the first Family Night scrimmage as the team's starter.
Another individual who clearly lacks life perspective keyed Rodgers' car. Someone else wrote nasty comments on his driveway – in chalk – and somebody harassed him as he filled his car with gas, according to the Milwaukee Journal Sentinel.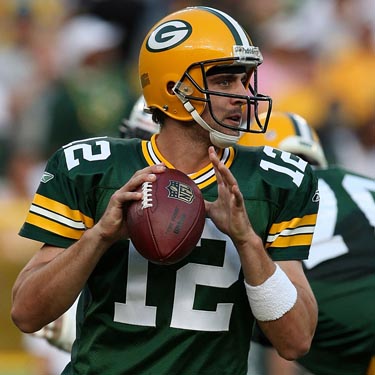 Rodgers now smiles as he looks back. He admits that times were tough, but he has made it as a quarterback in the city by the Northern Bay. And just like so many other players before him, Rodgers has a chance to validate his ascension by winning a championship when he and the Packers face the Pittsburgh Steelers in Super Bowl XLV.
That would be a big step for Rodgers, but just getting here required many smaller ones, all of which were important and logical, and all of which laid out a clear path to the Super Bowl.
They started in Butte – California, not Montana – where Rodgers attended a junior college because Division I programs did not deem him worthy. There, Rodgers found himself with a unique group of people, most of whom were 10 years older than him.
"As a young 18-year-old you're trying to be the field general to guys who have kind of 'been there, done that,' " Rodgers said. "(Who) had life experience, been in the work force, been in jail, been in the military, had leaders before. Coincidentally, I also took a coaching class at the same point."
It was his first step toward his career.
Attending Butte helped Rodgers be noticed by Cal coach Jeff Tedford, who arrived to recruit a tight end and left with the quarterback who had led the team to a 10-1 record – step two. Setting records at Cal enabled him to be drafted by Green Bay, though he had to wait until the 24th pick to move forward again. Being drafted by Green Bay, though, meant that Rodgers had to wait to play. The Packers had a guy named Favre, and it wasn't until his fourth season that Rodgers took over.
"That was an important time in my career," he said of being the backup. "Just to learn the game, learn the offense, learn about defenses. Get in great shape. I think I learned about what it means to be a leader and how leading by example is the most important thing."
Step taken.
Rodgers had to earn the respect of the fans when he took over in 2008, respect that was tough to gain because of the fans' affection for Favre. It was tougher to do, Rodgers said, than working his way to the Super Bowl.
But he followed his MO, which is to wait for the opportunity and then take advantage of it. Rodgers' 4,434 yards and 103.2 passer rating in '08 were better than any Favre had produced. Favre now is not even a blip on the Packers' radar. Rodgers merely says "that was a long time ago" when asked about backing up Favre, and shakes his head and gives a firm "no" when asked if Favre offered him advice before this Super Bowl.
Another step completed, moving beyond the shadow of No. 4.
But the team had gone just 6-10 in 2008. The next season, Rodgers turned that around to 11-5 and a playoff appearance, in part because of a vocal meeting he helped lead following a loss to Tampa Bay that dropped the Packers to 4-4. There, Rodgers learned that "conflict is good for a team. "
"There were some deep-seated emotions in that room that needed to get out – that guys were holding in," Rodgers said. "It was great. There were a lot of harsh words said, but at the end of the day, we moved on together. A lot of times when there is strife on a team it can get out in the wrong way – guys talking in the media on their own or behind the scenes, but we sat in the room as an offense and said, 'What are the main issues here?'
"Myself, Donald (Driver) and different guys spoke up and we got our issues on the table and moved forward as a team. It wasn't a divided locker room."
Green Bay lost to Arizona in overtime in the wild-card game, but Rodgers still had gotten there.
Then, before this season, Rodgers suggested to coach Mike McCarthy that pictures of the Packers former champions be placed in the meeting room, with one blank for the picture yet to be completed.
"I gave Mike (McCarthy) that idea in the offseason," he said. "He might not tell you that, but a good friend of mine who is also a professional athlete talked about how his coach motivated them in that way. I thought that would be a cool thing for us to see every day in the meeting room because we start a day off in that room. To be able to think about the entire season what we're really playing for by having that empty picture up on the wall."
McCarthy said Rodgers' most significant improvement this season has come in … leadership.
Take another step, Mr. Rodgers.
Rodgers now has brought the Packers to the Super Bowl, winning three games in a row on the road and playing extremely well in getting there. Yet Rodgers seems as unassuming as any quarterback can be. He is only a little bit flamboyant — when he dons the "championship belt" on the field — and at times almost goes under the radar as one of the top-tier quarterbacks in the league.
He said he has not overdone the preparation this week, but he also has not "been out carousing." He almost blushes when compared to the Tom Bradys of the world; he does not for a second allow anyone to compare him to past Packers greats.
The word grounded comes to mind.
Yes, it's another step on a journey.
The next step, the most important one, awaits Sunday against Pittsburgh.