By Sam Amick
The game itself, once again, did nothing to reveal the number of circles on Steve Nash's tree trunk.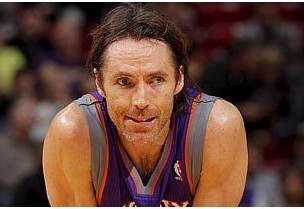 The ageless Phoenix Suns point guard was nearly perfect in a loss to the lowly Sacramento Kings on Sunday night, carving up one of the league's youngest teams with his trademark offensive brilliance. He hit all eight of his shots from the field and both of his free throws en route to a 20-point outing. Nash was his unselfish self with his teammates as well, and perhaps even too selfless this time around.
He passed up an open layup in the final minute that would have cut the deficit to one, firing a pass to new teammate Mickael Pietrus in the right corner for an errant, game-tying 3-point attempt. Still, Nash's scoring combined with 12 assists and just two turnovers was, once again, the kind of point guard play that NBA executives dream of.
But his Suns lost for the eighth time in their last 11 games nonetheless, and the unavoidable truth that Nash is 36 years old was finally evident afterward as he talked to reporters at his locker inside Arco Arena. The once-boyish face was nowhere to be found, replaced by the mug of a man with a 5 o'clock shadow that features as much gray hair as it does brown.
With the way the new-look Suns are looking, the grays aren't going to stop growing anytime soon.
This is why opposing teams aren't convinced the Suns won't trade Nash before the Feb. 24 trade deadline, because the notion that one of the league's brightest diamonds will stay stuck in this desert rough during his twilight years is simply too hard to comprehend. And that skepticism, according to a source who was recently briefed on the Suns' thinking, might still turn out to be warranted.
While the 14-18 Suns made it clear recently that their six-player trade with Orlando was not a precursor to moving Nash, the option is being considered and they are, according to the source, "on the fence" about which direction to go. The next month will be key in the decision-making process, as there is a mixture of belief and hope that the additions of Vince Carter, Pietrus and Marcin Gortat can fortify the defense and help turn the season around in time for a playoff push.
But the Suns are well aware that Nash is their most valuable trade asset when it comes to expediting the rebuilding process, and the continuation of their current slide might speed up their possible decision to part ways with the seven-time All-Star and two-time MVP. Phoenix, which pushed the champion Lakers to six games in last season's Western Conference Finals after a surprisingly-deep postseason run, is 1-2 since having Carter, Pietrus and Gortat in the fold, having lost to Philadelphia and downed Detroit before the inexcusable loss to the league's worst team in the Kings.
For Nash's part, his plan remains the same. Compete the only way he knows how for the team with which he's on contract through next season — no matter the outcome.
"I'm playing; I'm here," he told FanHouse on Sunday when asked if a fall into the Western Conference abyss might inspire a desire for change. "I'm going to fight until they tell me they don't want me anymore. We made a lot of changes this year, and hopefully we can get it right and get in the playoffs and make a run. But if we don't, we'll try to put ourselves in a good position for next year."
There's not much mystery when it comes to the sort of teams that are closely monitoring the Nash situation, as any competitive club without a Hall of Fame-caliber point guard would stand to improve significantly by bringing him aboard. And the New York Knicks, according to a source with knowledge of their thinking, are most certainly still among that group.
Despite the career year being had by free agent addition Raymond Felton, the Knicks have continued to target Nash and are prepared to make a pitch if the Suns send word that he is available. The pieces needed to land him would almost certainly be similar to those in discussion for a Carmelo Anthony deal with Denver, even if former Suns president Steve Kerr said recently that he didn't think the Knicks had enough to land either player because of the absence of draft picks available to offer.
The prospect of landing the Nuggets small forward would be the clear priority, and the status of that situation would affect the possibility of landing Nash for what the Knicks would expect to be a significantly lower price. But even with their 19-14 start and all the positivity that has come with it, the intrigue in Nash is as strong as ever.
Before LeBron James left Knicks team president Donnie Walsh at the free agency altar last summer and headed for Miami, Nash was his first love lost in New York. He had whet the appetite of Knicks fans everywhere during an appearance with David Letterman in June 2009 when the late night host asked Nash if he'd like to play for the Knicks and he said, "I'd love to. Can you work that out?"
Yet Walsh never had a chance to court him, as Nash signed his two-year, $22 million extension with the Suns just weeks later and was thereby removed from the 2010 market.
Ironically, the premier player that Walsh did manage to land in the summer of 2010, that being forward Amar'e Stoudemire, is making New York an even more attractive destination than before for the point guard who spent six seasons with him in Phoenix perfecting the pick-and-roll. The possible reunion wouldn't stop there, though, as Nash maintains a good relationship with former Suns coach and current Knicks coach Mike D'Antoni as well. The comfort and happiness of the traded player doesn't typically matter to his old team, of course, but the Suns' reverence for the loyal veteran means they will heavily consider his part in any deal.
On the Knicks' end, it doesn't hurt that Nash's contract expires in 2012 and thus fits perfectly with another part of the their possible plan: the hoped-for footrace to Madison Square Garden between New Orleans' Chris Paul and Utah's Deron Williams when they can be free agents that summer. Felton was signed last summer with that in mind, as he was given a two-year, $15 million deal.
Meanwhile, the Suns – who host the Lakers Wednesday and play the Knicks twice in the next two weeks – are faced with a daunting reality that they may need to get even younger sooner rather than later. Carter might very well bounce back from what has been one of the worst seasons of his career, but the soon-to-be-34-year-old is expected to be bought out of the final year of his contract next season (he is owed $18 million but has a $4 million buyout). Grant Hill is in the final year of his contract, and the 38-year-old small forward certainly could be gone by next season. Should both players depart and Nash stays behind, he would be the only player on the roster in his 30s (new addition Hakim Warrick will be 29 in July and would be the second oldest).
As for who would take Nash's place, 24-year-old point guard Goran Dragic has been less proficient this season as compared to his last but has, at times, shown he's capable of taking on a starting role if Phoenix didn't get a starting point guard in return on any eventual Nash deal. Dragic showed his own creative genius in stretches of the Suns' 2010 playoff run, none better than his 23-point fourth-quarter against San Antonio in Game 3 of the Western Conference Semifinals. Dragic is in the final year of his deal, but the Suns have a team option worth $2.1 million to bring him back for 2011-12.
Nash isn't getting any younger. And if these struggling Suns keep speeding up his aging process, Phoenix might have to speed up its rebuilding plan after all.