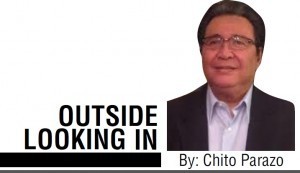 There is still no hope or comfort in the current gloomy situation for tens of thousands of homeless typhoon victims that devastated parts of Mindanao and Eastern Visayas region in 2013.
Thousands of typhoons "Yolanda" and "Sendong" victims spent their Christmas season in one-room makeshift  shelters with no roof, due to government's ineptness to built houses for them despite a billion-peso budget allocated for such purpose.
Secretary Dinky Soliman of the Department of Social Welfare and Development (DSWD) and local  officials of the affected regions have been blaming each other for the continued "snail pace" construction of houses for typhoon victims, including its relief operations.
About P2.57 billion has been allocated by the government through the DSWD to construct houses for the typhoon victims. However, up to this time, it was reported that only a few hundreds were built, most of them without any roofing at all.
A report from the Commission on Audit (COA) showed that portion of the fund was used  by some government officials for other purposes not directly related to assisting the disaster stricken victims recover from their sad plight. COA also reported that more than P1.8 billion in Disbursement Acceleration Program (DAP) funds allocated to DSWD remain unliquidated.
As government officials continue to bungle their operations to alleviate the plight of these people, another typhoon hit parts of Mindanao and Visayas last week, triggering floods and landslides and resulting in the death to more than 50 people.
The latest typhoon to hit country code named "Seniang"  destroyed close to 200 homes and affected more than 27,000 families in parts of western and central Visayas, northern Mindanao and the Davao and Caraga regions.
It is going to be a bleak Christmas season for all of them this year. The President should tap various government agencies to assist in providing assistance to these victims.
I hope DSWD Sec. Soliman will be in the typhoon stricken areas as soon as possible to supervise the distribution of relief goods for the victims. Soliman should spent more time in disaster stricken areas rather than spending long hours in beauty salons dyeing her hair. No matter what she does on her hair or face, it will not alter her appearance. A gorilla will always look like a gorilla even if you dye the hair,
I hope too that Interior Secretary Mar Roxas will be on the site also to supervise relief operations in the affected areas. This is the best time for Roxas to show the people that he can be relied upon during critical times.
Going back to the apparent government insensitivity to the plight of typhoon victims, President Noynoy should be man enough to accept responsibility on the snail pace rehabilitation projects of the government in all devastated typhoon areas in Mindanao and Visayas regions.
If Aquino had the balls for firing Health Secretary Enrique Ona for alleged corruption in the procurement of vaccines, Soliman should be booted out from the DWSD for her failure to complete the P2.57 billion shelter program for typhoon victims.
Despite her admission that there has been delays in the implementation  of the shelter programs for typhoon victims, she still enjoys the trust of the President. As they always say, "birds of the same feathers flock together."
Even foreign donors who have been more than generous in giving relief goods and cash to typhoon victims through the government were dismayed by the apparent slow progress in the distribution of aid to victims, particularly food and water.
As a result, they decided to find a way to give cash and relief goods directly to the typhoon victims, instead of coursing it through the Philippine government or DSWD. The distribution of relief goods were so glaring that a video of hundreds of sacks of rotten rice worth millions of pesos laying in some field offices of the DWSD were circulated in various social media networks.
But the worst the DWSD of Soliman did was to distribute rotten food items to flood victims in Palo, Leyte last year. Where if not for the mayor of the town of Palo, the starving Palo residents who have eaten the spoiled cup noodles and biscuits. After surviving the fury of Typhoon  "Yolanda," these people would have died of food poisoning, courtesy of Secretary Soliman.
Same thing happened to Mayon volcano evacuees last October 15. They were given spoiled canned goods and expired noodles distributed by the DSWD.
Despite her failure in many previous relief operations, Soliman  has never been held accountable by the President for the DWSD's lapses  in the distribution of wasted relief goods.