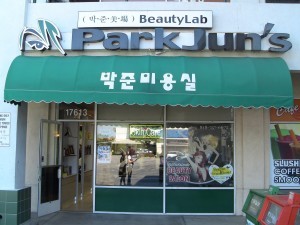 IT IS crucial to clean your hair carefully after swimming (at the beach or in the pool) because of the salty beach water, and the chemicals in the pool. These can damage your hair…badly. After a dip in the water, it is a must to clean well your scalp as this can prevent hair loss, and also prevents getting any type of disease that you might get in your hair. And if you have dry hair or split ends, it is a must to put hair essence after shampoo if you want to keep your hair from any kinds of damage.
However, if your hair is "too" damaged caused by too much application of hot steam towel and daily treatment, you can avoid further damage to your hair. Please call us about treatment, hair ample, hair steam, and hair spa. We can help.
Meanwhile, since "we are having a promotion for hair dry and hair style, we have a sweet price for our customers this summer," says Alice, owner and proprietor of Park Jun Beauty Lab. "Remember, it is not a smart idea to keep damaged hair, so consult your problem with professional hairdressers, so you can have a gorgeous hair this summer," Alice says.
Treatment price
(includes shampoo, ample, treatments, blow dry, style)
Short hair reg price
($40) now $25
Medium, long hair reg price
($50-$60) now $30
Cut + treatment
($15) + blow dry & style (free)
Perm + treatment
($15) + blow dry & style (free)
When it comes to hair, make-up, skin care, and medical massage therapy Park Jun's, which is South Korea's most famous beauty salon, is a cut above the rest. Little wonder it is the Number One selling hair design franchise in the global market. It's branches are all over the world – in the Philippines, Paris, London, Vancouver, China, New York, Chicago, Atlanta, and here in Southern California.
Park Jun's Beauty Lab is located at
17613 Sherman Way, Van Nuys, CA
91406. For an appointment, please call
818-757-0675 or 818-757-