By Leonel Abasola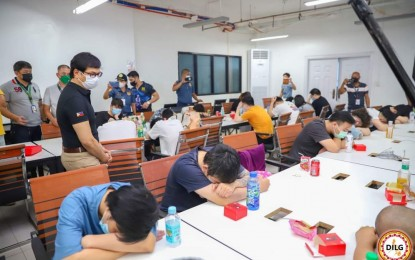 MANILA – The call for an immediate ban against Philippine Offshore Gaming Operators (POGOs) in the country is gaining ground.
Senator Sherwin Gatchalian, who has long been pushing for the ban, expressed confidence that the realization of his recommendation will soon happen.
Gatchalian also cited the opinion of former Senate minority floor leader Franklin Drilon in support of his committee report.
"It's worth noting that Drilon has consistently advocated for the expulsion of POGOs, asserting that the country is being exploited by organized crime syndicates for money laundering through POGO operations," he said in a news release on Sunday.
As early as March 2020, he said Drilon has urged the government to re-examine its policy of allowing POGO operations in the country, noting then that the influx of foreign cash brought to the country was tied to POGO operations.
Just recently, Socioeconomic Planning Secretary Arsenio Balisacan said he would recommend to President Ferdinand R. Marcos Jr. the permanent ban of POGOs in the country, emphasizing that "the social costs are quite high" compared to the revenues generated by the government from the industry.
"I believe that everyone in government will eventually take a stand against POGOs because it's an effective crime prevention strategy that would provide a safe and secure environment as we aim for sustained economic development," Gatchalian said.
The recommendation made by the Senate Committee on Ways and Means, headed by Gatchalian, will be taken up in plenary within the week.
"Buo ang kumpiyansa ko na ang aking mga kasamahan sa Senado ay papanig sa pagpapatalsik ng mga POGO para tuloy tuloy na ang pag-unlad ng bansa (I am confident that my colleagues in the Senate will support the POGO ban to sustain the development of the country)," he said.
Gatchalian earlier said President Marcos already expressed concern about the proliferation of crimes associated with POGOs.
He said the President even urged him to continue keeping an eye on the industry.
Aside from money laundering activities, crimes attributed to the POGO industry have expanded exponentially over the past several years and now include human trafficking, forcible abduction, homicide, illegal detention, kidnapping-for-ransom, theft, robbery-extortion, serious physical injuries, swindling, grave coercion, investment scam, cryptocurrency scam, and love scam.
Data from the Philippine National Police show that from Jan. 1, 2017 to June 30, 2023, there were 103 POGO-related crimes. (PNA)