By Ferdinand Patinio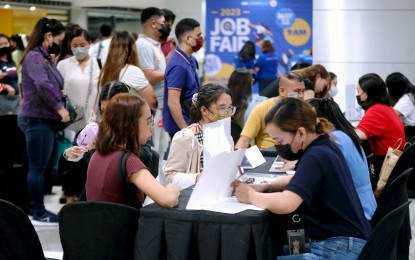 MANILA – Two state universities are the top choices of employers in hiring employees.
Based on the results of a survey by online job portal JobStreet released Monday, the Polytechnic University of the Philippines (PUP) has remained the number one choice of companies at 23.39 percent, noting that PUP graduates are effective team players in the workplace.
Another government educational institution, the University of the Philippines (UP) ranked second at 9.17 percent, followed by the De La Salle University (DLSU) at third place with 6.88 percent.
UP and DLSU were also chosen based on the reputation and alignment of their institutions to the industries of hirers.
The University of Santo Tomas (UST) with 5.28 percent and Mapúa University with 3.44 percent, were in fourth and fifth places, respectively.
The remaining schools that complete the list include Batangas State University (3.21 percent), University of Mindanao (2.29 percent), University of Cebu (2.06 percent), Technological Institute of the Philippines (TIP) (2.06 percent), and STI College (2.06 percent).
The survey was conducted last May 2023 which included 42 industries and involved more than 700 companies of varying sizes from the platform's hirer base.
It aims to empower hirers to be more focused on the jobseekers being approached and guide them in crafting policy recommendations to enact changes in both the academe and in the workplace while obtaining a deeper understanding of the distinctive strengths possessed by each academic institution.
The survey said hirers from information technology (IT), human resources, and call center/business process outsourcing (BPO) industries are the top recruiters that hire talent from PUP and UP.
On the other hand, DLSU graduates are frequently sought after in the healthcare, information technology, and property/real estate sectors.
Companies from call center/BPO, business consulting, and hospitality, among others, recruit candidates from UST, while hirers from construction, IT, and telecommunications are likely to hire graduates from Mapua Institute of Technology.
When it comes to employers' desired attributes from applicants, the survey added that hirers prioritize factors such as the schools' alignment with their business sector, hard work, and reputation.
Other factors that hirers also consider include a candidate's self-esteem, location, and alumni status.
"We hope that the insights shared through this survey can help in improving connections between jobseekers and employers," JobStreet Country Manager Philip Gioca said in a statement.
"Most importantly, more than these preferences, it is crucial for candidates to recognize and hone their own unique qualities and strengths that are primary factors for determining hireability and career growth," he added. (PNA)