Looking for a great way to make spring gatherings even more special? Try adding something new to the menu. Here are two favorites to get you started.
Carrot Cake Muffins and Goat Cheese Walnut Tart are simple ways to serve up memorable meals this spring. That's because adding nuts to anything from appetizers and salads to entrees and desserts can make any meal special.
For more free downloadable recipes and great entertaining ideas, go to www.diamondnuts.com. And visit between now and May 31, 2010 to test your nut knowledge, and for a chance to win one of hundreds of prizes instantly from Pyrex and Diamond Nuts. Find out more at www.diamondnuts.com.
Carrot Cake Muffins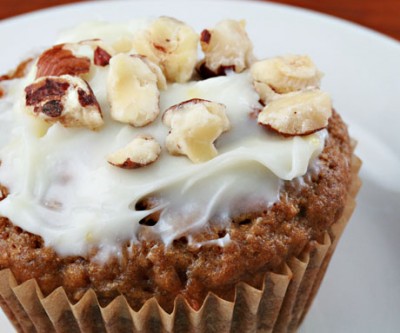 Makes 12 Muffins
Ingredients:
1 cup unbleached all-purpose white flour
1 1/2 cups whole-wheat pastry flour
2 teaspoons baking soda
1 teaspoon cinnamon
1/2 teaspoon ground allspice
2 cups firmly packed finely grated carrots
1 cup honey, liquefied in microwave (30 seconds)
Juice of 1 large orange
½ cup crushed or chopped pineapple, drained
1/4 cup light olive oil
2 teaspoons vanilla extract
3/4 cup Diamond walnuts, chopped
Directions:
Preheat oven to 350°F. Generously butter a 12-cup muffin pan or line with paper baking cups.
In medium bowl, whisk together all-purpose flour, whole wheat flour, baking soda, cinnamon and allspice.
In large bowl, using a large spoon, stir together carrots, honey, orange juice, pineapple, oil and vanilla. Add flour mixture and mix just until dry ingredients are moistened (do not over mix). Stir in walnuts.
Spoon batter into muffin cups, using about 2/3 cup batter for each. Bake until dark golden and a toothpick inserted into the center of the muffin comes out clean, about 30 minutes.
Let sit in the pan for 5 minutes. Transfer to a wire rack. Serve warm or at room temperature. Store in an airtight container for up to 2 days.
NOTE: You can also pour the batter into a nonstick 8-inch-square baking pan and bake for 45-60 minutes until a knife inserted in the center comes out clean. Remove from oven, let cool slightly, cut into 12 pieces, and serve.
Goat Cheese And Walnut Tart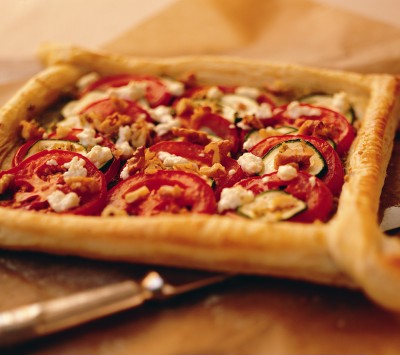 Serves 4
Ingredients:
1 cup Diamond Walnuts
3 tablespoons freshly grated Parmesan cheese
3 tablespoons chopped fresh flat-leaf parsley
2 tablespoons unsalted butter, at room temperature
Salt
Freshly ground pepper
1 frozen puff pastry sheet (half of a 17.3-ounce package), thawed as package directs
1 egg, beaten
2 medium tomatoes (about 12 ounces total), sliced
1 small zucchini (3 to 4 ounces), thinly sliced
1 small log (about 5 ounces) fresh goat cheese
Directions:
Preheat oven to 350°F. Spread walnuts on a baking sheet or in a shallow pan. Bake, stirring once or twice, until lightly browned and fragrant, 10 to 12 minutes. Let cool. Increase oven temperature to 375°F.
In food processor or blender, whirl toasted walnuts with Parmesan cheese, parsley, and butter. Pulse machine on and off until walnuts are finely chopped and mixture is well blended. Season to taste with salt and pepper.
Roll and fold pastry, then brush with egg as directed in master recipe.
Spread nut mixture evenly over the base. Arrange tomato and zucchini on top. Crumble goat cheese on top. Bake until pastry is puffed and golden and topping is heated through, 20 to 25 minutes. Cut into squares. (Family Features)