By Zaldy De Layola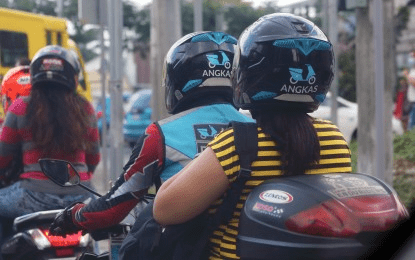 MANILA – Davao City 1st District Rep. Paolo Duterte on Thursday pushed for the immediate approval of a proposed bill regulating the operation of the motorcycles-for-hire.
Duterte and fellow co-authors of House Bill 4470 — Reps. Eric Yap (Benguet) and Edvic Yap (ACT-CIS), made this call after various advocacy groups asked the government to lift the cap on the number of motorcycle taxis.
He noted that the pilot study authorized by the Land Transportation and Franchising Regulatory Board (LTFRB) on the viability and safety of motorcycles-for-hire as a mode of commuter transport is now in its fourth year.
"As a result, the number of 'habal-habal' rides, or those motorcycles-for-hire operating outside the purview of the pilot study conducted by the LTFRB, has continued to increase. Passengers who cannot book through motorcycle-hailing apps authorized by the LTFRB because of the lack of available rides are left with no option but to patronize these illegal habal-habal and compromise their safety," Duterte said.
The Motorcycle Taxi Technical Working Group (MC Taxi TWG) was formed in 2019 by the LTFRB upon the directive of the Department of Transportation (DOTr).
The group was reconstituted in November last year and continues to oversee the pilot implementation of motorcycle taxi operations by companies like Angkas, Joyride and Move It.
Several transport advocacy and consumer groups, such as CitizenWatch Philippines, Bantay Konsyumer, Kalsada, Kuryente and The Passenger Forum have clamored for the lifting of the current 45,000 limit imposed by the MC Taxi TWG on the number of motorcycle taxis allowed to operate.
"The long-term solution to this valid point raised by transport advocacy groups is a law that will regulate the operations of motorcycles-for-hire," Duterte said.
He added the proposed bill will also ensure that all riders are properly screened and trained, and will follow the speed limit mandated under the measure to ensure the safety of their passengers.
Duterte said several government agencies, including the DOTr, Land Transportation Office (LTO), LTFRB, and the Philippine National Police – Highway Patrol Group (PNP-HPG), have all expressed their support for the proposed motorcycles-for-hire law.
The League of Provinces, League of Cities, Union of Local Authorities of the Philippines, Motorcyle Development Program Participants Association, Inc. (MDPPA), and Angkas have backed the measure, he added.
HB 4470 sets the speed limit of motorcycles-for-hire at a maximum of 60 kilometers per hour to ensure the safety of riders and passengers.
The House Committee on Transportation has created a technical working group to consolidate and harmonize HB 4470 and the 14 other similar measures. (PNA)