MANILA, Apr 19 (Mabuhay) – Restive Taal Volcano in Batangas calmed down even as Mayon Volcano in Albay and Buluasan Volcano in Sorsogon showed intensified activity in the last 24 hours, state volcanologists said Tuesday.
The Philippine Institute of Volcanology and Seismology recorded six volcanic quakes at Taal in the last 24 hours, after previously recording 21 quakes.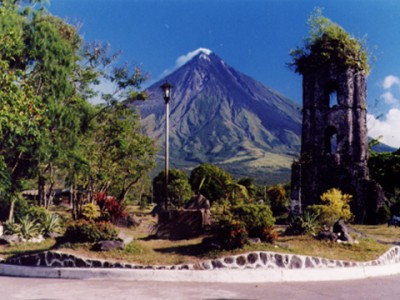 "Taal Volcano's seismic network recorded six volcanic earthquakes during the past 24 hours. Water temperature at Taal Main Crater Lake slightly increased from 29.8 to 30.1 degrees Celsius," it said in its Tuesday update.
It added carbon dioxide concentrations remain high and indicate a gas release from the magma at depth.
Alert Level 2 remains over Taal Volcano with the interpretation that magma has been intruding towards the surface, it said.
Phivolcs maintained that the Main Crater, Daang Kastila Trail and Mt. Tabaro remain strictly off-limits because sudden hazardous steam-driven explosions may occur and high concentrations of toxic gases may accumulate.
"Breathing air with high concentration of gases can be lethal to human, animals and even cause damage to vegetation," it said.
Also, it reminded the public the entire Volcano Island is a Permanent Danger Zone (PDZ), and permanent settlement in the island is strictly not recommended.
5 quakes at Mayon
Meanwhile, Phivolcs recorded at least five volcanic earthquakes around Mayon Volcano in Albay during the past 24 hours.
It also noted weak crateral steaming activity with white steam clouds drifting west-southwest.
But Phivolcs said Alert Level 1 remains in effect over Mayon Volcano.
"Although this means that no eruption is imminent, it is recommended that the public should not enter the 6-km radius Permanent Danger Zone (PDZ) due to the continuing threat from sudden small explosions and rockfalls from the upper and middle slopes of the volcano," it said.
It added active stream/river channels and those perennially identified as lahar prone areas in the southern sector should also be avoided especially during bad weather conditions or when there is heavy and prolonged rainfall.
6 quakes recorded at Bulusan
At Bulusan Volcano in Sorsogon, Phivolcs recorded at least six volcanic earthquakes during the past 24 hours.
It said Bulusan Volcano's status remains at Alert Level 1, meaning the source of activity is hydrothermal and shallow.
But it said entry to the 4-km radius Permanent Danger Zone (PDZ) is strictly prohibited, since the area is at risk to sudden steam and ash explosions.
Also, it said people living near valleys and river/stream channels should be vigilant against sediment-laden stream flows and lahars in the event of heavy and prolonged rainfall. (MNS)