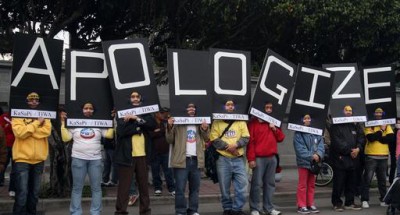 TAIPEI, March 15, 2011 (AFP) – Taiwan said on Tuesday it had removed sanctions put in place against the Philippines during a diplomatic row sparked when Manila deported Taiwanese nationals to China.
"From today on, the requirements imposed on Philippine workers applying for entry visas are returned to the previous ones," the foreign ministry said in a statement.
"The Philippines has repeatedly displayed its good will and apology by punishing responsible officials," it said, referring to the Philippines' removal of two officials from its Bureau of Immigration.
The spat came after the Philippines deported 14 Taiwanese suspects to mainland China — rather than Taiwan — in February after they allegedly swindled $20 million in an international scam targeting mainland Chinese.
Taiwanese authorities insisted that the suspects should have been sent back to face justice on the island instead and warned Manila that the incident had dealt a serious blow to bilateral ties.
Taiwan had reacted by raising the screening period for Philippine workers to a maximum of four months and threatened to freeze the hiring of Philippine workers, although no such action has yet been taken.
There are more than 70,000 Philippine workers in Taiwan, sending home hundreds of millions of dollars a year.
China and Taiwan have been ruled separately since the end of a civil war in 1949, although Beijing claims the island. The Philippines has formal ties with China only but maintains economic and cultural links with Taiwan.