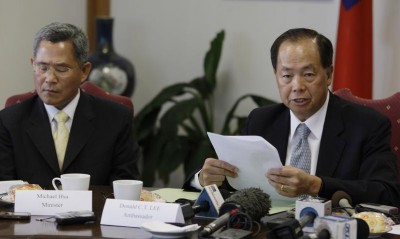 TAIPEI, March 9, 2011 (AFP) – Taiwan partially eased punitive measures against the Philippines Wednesday after Manila sacked officials involved in the deportation of Taiwanese nationals to China.
In a sign the rift over the deportation of 14 Taiwanese suspected of involvement in a major scam may be easing, Taipei relaxed some of the strict requirements it had imposed on Philippine workers last month, Taiwan's foreign ministry said in a statement.
The move came after the Philippine government removed two officials from its Bureau of Immigration which was involved in the deportations.
Taiwan has expressed anger at the episode, insisting that the suspects should have been sent back to face justice on the island instead and warned Manila that the incident had dealt a serious blow to bilateral ties.
In retaliation it raised the screening period for Filipino workers to the maximum four months and threatened to bar them from entry after the row, although no such action has yet been taken.
There are more than 70,000 Philippine workers in Taiwan, sending home hundreds of millions of dollars a year.
Philippine emissary Manuel Roxas voiced his government's "deepest regrets over whatever problems and hurt feelings the incident may have caused the people of Taiwan".
He also guaranteed that "we will undertake every good faith effort such that the unfortunate incident will not happen again".
Huang Yu-pin, one of 18 Taiwanese arrested in the Philippines in December on suspicion of fraud, was escorted back to Taiwan late Tuesday night, the Criminal Investigation Bureau said.
The 30-year-old was wanted for other fraud cases, and the deportation was welcomed by the island, which had complained over the "improper" deportation to China of Taiwanese nationals involved in another case.
China and Taiwan have been ruled separately since the end of a civil war in 1949, although Beijing claims the island. The Philippines has formal ties with China only but maintains economic and cultural links with Taiwan.