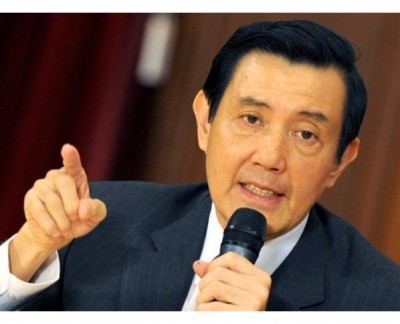 By Amber Wang
TAIPEI, February 22, 2011 (AFP) – Taiwan expressed anger Tuesday over the Philippines' refusal to apologise for deporting 14 Taiwanese to China and threatened to freeze the hiring of Philippine workers.
"Taiwan's government and people are strongly angered," President Ma Ying-jeou said through an interpreter while meeting in Taipei with Manuel Roxas, an unofficial envoy of Philippine President Benigno Aquino.
Ma reiterated Taiwan's demand that the Philippines "take responsibility for its mistakes" and apologize, local television footage showed.
Roxas, who arrived on Monday in an attempt to cool the row, has so far only said "we deeply regret" the incident during talks with Ma and Taiwan's foreign minister Timothy Yang, according to the foreign ministry.
His mission was however complicated by fresh comments made in Manila by Aquino's spokesman, who insisted that the Philippines would not apologize for deporting the 14 suspected fraudsters to China against Taipei's wishes.
"The position of this government is that we have done everything legally and properly… The government acted based on an Interpol alert," Edwin Lacierda told a press conference on Tuesday.
The incident was now subject of a court case, and Manila would have to wait for the outcome first, Lacierda said without elaborating.
"So to apologize right now would be implying that we have already committed a mistake," he said, adding it was up to the courts to determine that.
Taiwan is mulling a freeze on the hiring of Philippine workers in retaliation, although a final decision is yet to be made, labor minister Wang Ju-hsuan told reporters.
A labor official told AFP that Taipei is "very likely" to impose the freeze after President Ma expressed fury over the deportations.
But some analysts warned that such a move would lead to a no-win situation.
"Taiwan doesn't necessarily have an upper hand in this matter," said Liu Bih-rong, an international relations expert in Soochow University.
"It could backfire, and local factories might react if the government suddenly bars Philippine workers as that would affect their operations."
China and Taiwan have been ruled separately since the end of a civil war in 1949, although Beijing claims the island. The Philippines has formal ties with China only but maintains economic and cultural links with Taiwan.
Taipei has already raised the screening period for Philippine workers to a maximum of four months.
There are about 70,000 Philippine workers in Taiwan, sending home hundreds of millions of dollars a year.