By Ruth Abbey Gita-Carlos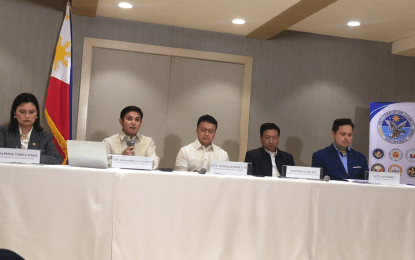 MANILA – Suspended Negros Oriental (3rd District) Rep. Arnolfo Teves Jr. could not be labeled as a fugitive even if he has been designated as a terrorist by the Anti-Terrorism Council (ATC), the Department of Justice (DOJ) said Tuesday.
In a Palace briefing, DOJ spokesperson Assistant Secretary Mico Clavino said Teves can only be considered as a person running away from justice, once a warrant of arrest is issued against the beleaguered lawmaker.
"He is not considered a fugitive as this (terror tag) is separate and distinct from a criminal action. It is only when you are issued a warrant of arrest that you become fugitive or your status becomes a fugitive. Right now, he is designated as a terrorist but that's as far as we go," Clavano said.
Clavano also explained that the designation of Teves and members of his alleged armed group as terrorist comes first before the filing of charges because the move is "purely [an] executive act."
DOJ Undersecretary Nicolas Felix Ty said the ATC is not mandated to give Teves and his group the chance to be heard before designating them as terrorists.
"Under the procedure laid down by law and by the implementing rules and regulation, we're not required to hear from the respondents when it comes to designation. That is not the case in preliminary investigation where the respondents have the right to be heard," Ty said.
National Security Council assistant director general Jonathan Malaya said the ATC's latest move was meant to address the threat posed by the Teves group to the security and well-being of the Filipino people, especially those residing in Negros Oriental province.
Malaya said the killings in the Negros Oriental reveal an "unmistakable pattern of being meticulously planned and executed."
"The evidence gathered by the ATC compels us not to treat the killings, abuses and the acquisition of high-powered firearms and explosives as independent and isolated crimes because these acts are not committed just to cause injury to people or to grab property," he said.
"These violent acts were motivated by the underlying objectives to intimidate the residents of Negros Oriental and create an atmosphere of and spread the message of fear, and he is using his position in government to thoroughly control the province through fear and intimidation," Malaya added.
Anti-Money Laundering Council (AMLC) legal officer Luis Warren said the council has frozen Teves' assets following the latter's designation as terrorist.
Warren said the AMLC's issuance of a freeze order is in accordance with Republic Act 11479 or the Anti-Terrorism Act.
"So, upon the designation of an individual or organization it is ministerial upon the part of the Anti-Money Laundering Council to issue an ex-parte order to freeze without delay the assets of the subjects in this case," he said.
"We have a list of the individuals identified. Only those people who are specifically identified under the ATC resolution are subject of the freeze order. Now, in so far as how much has been frozen since this was only implemented this morning, the banks have only been notified this morning, we are receiving reports and returns as we speak," Warren added.
Citing information from different sources, Clavano said the government knows Teves' whereabouts.
Clavano also urged Teves to face the allegations against him.
"As of right now, it's in preliminary investigation but even at that stage there is still that opportunity to be heard. So, kung talagang sinasabi niya na wala siya talagang kinalaman dito (if he is really saying he's not behind all these), there's a proper forum for it," he said.
Apart from Teves, who was identified as mastermind, also tagged as terrorists are his brother and former governor Henry Pryde Teves, Nigel Electona, Hanna Mae Sumero Oray and Marvin Miranda.
According to the ATC, Sumero handled operational funds while Miranda served as the group's organizer and recruiter.
The Teves group has been implicated in masterminding the commando attack on the house of Degamo last March 4 which left nine dead, including Negros Oriental Gov. Roel Degamo and 18 others injured. (PNA)