By Rhony Laigo
Balita Media News Service
There's something about Asian cuisine that makes it not just enticing but a total experience. Perhaps it's in the colors, texture, the aroma and the way chefs present them at the table. Many will argue that because Asian cuisine makes use of ingredients that are healthy, but so do Italians and their lycopenes in the tomatoes or the French and their anti-oxidants in grapes and wines.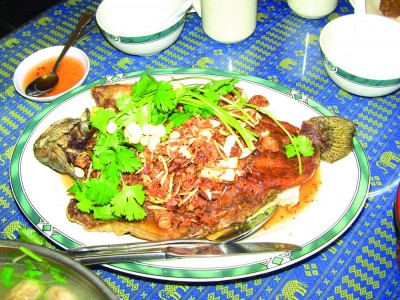 But I'm here to just talk about the food mystic of the east. And I'm not even talking about Chinese cuisine, which because of its long history and universality, is as much as part of everyone's diet. This may be the reason why when somebody invites me for lunch, and when the person says let's eat Chinese, I'd say, aaahhh. But when the "inviter" says let's eat Thai food, then I'd be the first to go and most likely everyone else would follow.
That is exactly what happened one day when I was invited to partake what I perceived to be a sumptuous lunch. Just the mention of words "Thai food," one can't help but savor eating pad thai, tom yum, chicken satay dipped in peanut sauce, and pork or chicken barbeque only Thai chefs can make. The mere words alone can whet your appetite, don't you think?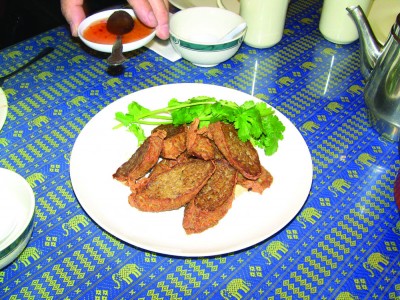 The day we went to Swan Restaurant located at 12728 Sherman Way, North Hollywood, CA 91605, in what was supposed to be just two diners rhR became four,  was another experience that I won't forget. This is because we got to know the man and woman behind the diner that has become a favorite eating place of Filipino-Americans who work and reside in the area and because we were introduced to a couple of dishes that, for a regular Thai restaurant customer like me, had no idea that there were other delicious dishes other than what we've been accustomed to.
Somchet Kemtat, more popularly known as Bon, told BALITA MEDIA that he and wife, Tammy, are so grateful to their Filipino-American clients who, Bon says, comprise almost half of his loyal clients, many of whom work in the hospitals near the area. There are two Kaiser Permanentes near his restaurant, one's a hospital, the other's a lab. And not surprisingly, these are manned by mostly Filipino medical professionals. For the past 12 years, Swan Restaurant has been serving the North Hollywood community, Bon says, that includes special delivery to the medical facilities and to the neighboring businesses within a four-mile radius.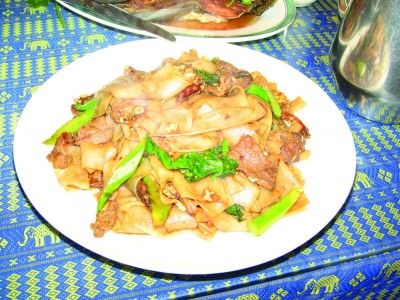 As a gesture of Thai hospitality, Bon asked his wife to serve us the best appetizer in Hoy Jor. Yeah, the name is not familiar so I'm guessing you haven't tried it. But Bon says the deep fried crab meat with ground pork sausage served with sweet and sour sauce makes whatever dish comes after this delectable treat a bomb. I asked him how. Bon says can't explain it, but it's better you try.  And it was.¦Sorry, I can't explain it too. Better you try it yourself. Remember the name, Hoy Jor.
Tammy then held the menu before us and pointed to what she would serve as the main course  – the house favorite Swan Fish. But the amiable Bon also asked us to order what we always fancy at a Thai restaurant. Needless to say, the pad thai and the tom yum or seafood soup came in next, which to my knowledge have become common to many, if not all Filipinos, who have been to a Thai restaurant.
Then came the Swan Fish. OMG! This deep friend whole trout fish was boneless and was topped with a house special lime sauce that is totally unique. It was, as we always say as a lame excuse, a different Thai experience. However, we should not forget that this special dish only may only be available at Swan Restaurant. Thus, the name.
And did I mention peanuts? The Swan Fish was not only crispy, the peanuts that were scattered around the plate were not only pleasing in the eyes, they add a distinctive flavor that complemented the lime taste. Again, it's hard to explain.
In order to find out the Swan experience, I urge you to visit the place and ask for the Swan Fish for a change, along with your other favorite Thai dishes. I promise you, you won't regret it.
Swan Restaurant is open daily from 10:30 a.m. to 10 p.m. For dine in, take out or delivery, please call (818) 764-1892. For a minimum order of $15, you can even get free Thai Ice Tea. Major credit cards are accepted and they have lunch-dinner specials that start at $5.95 per order.