Cora Aragon Soriano & Rey Paulino co-hosted the the 31stt Paranaque Association of San Diego Town Fiesta in honor of its patrons: St. Andrews and Our Lady of Buensuceso. It was held on Saturday, December 4th, from 11 a.m. until 5 p.m., at the Precious Blood Church Hall, Chula Vista, CA. Over 700 people attended the event. Eddie and Naty Bautista served as 2010 Paranaque Fiesta Hermano and Hermana Mayor.
Lito Valenzuela, President of the Paranaque Association of San Diego, gave the welcome remarks, followed by Eddie Bautista.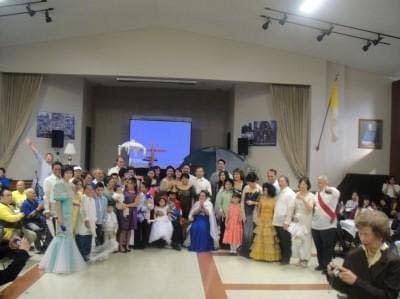 The 2010 Paranaque Association of San Diego officers who worked hard in making the event a huge success are:
Lito Valenzuela: President
Vice President:: Adeling Millena
Treasurer: Carmela Cruz
Asst. Treasurer: Lucy Hernandez
Secretary: Cora Velanzuela
Asst Secretary: Edith Doringo
Special Project Officer: Al Hernandez
Financial Officer: Emelie Baird
Spiritual Adviser: Father Romy Supnet
The event started with a mass at 11. An outstanding feature of the Paranaque town is the cultivation of its cultural tradition. The event had many of the things held dear to the attendees for everyone to enjoy, fellowship, drama, and color, singing, and a Tagalog Drama skit on "Alamat Ng Paranaque." Tony Salamat and his Dance Arts Center students performed a series of Filipino dances.
The highlight of the event was the "SUNDUAN," a unique street pageant which originated from the town of Paranaque in the Philippines. The term "sunduan" is derived from the word "sundo" which literally means "to fetch" and relates to an old courtship custom of waiting on one's lady love, accompanying her to the town plaza, and bringing her. Ladies in Filipino costumes paraded with their escorts in Barong.
The event ended with raffles and games.