By David Casuco and Manny V. Ilagan
LOS ANGELES – Tourism Director of Los Angeles Mary Ann Cuevas-Lim puts it aptly: "It is the best tour that a Filipino-American can ever join."
At the launching of the 6th Ambassadors/Consuls General and Tourism Directors Tour to the Philippines Tuesday evening, March 1, at the Rizal Hall of the Philippine Consulate General offices in Los Angeles, a great number Filipino expats who saw the presentation done by DoT Deputy Director E.V. Ilagan and Cuevas-Lim signed up on the spot, and got some extra perks and handsome discounts as a result.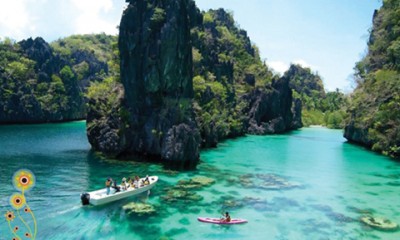 Belinda Paez, and other Philippine Airlines representatives were there to answer questions regarding booking and to lock-in reservations for the early birds.
The Ambassadors Tour, slated for July 17-23, 2011, is a guided tour with the consuls of different Philippine foreign service posts leading the tour.
"It is very special. It is so good that it is now on its sixth year…This is a tour where in you are so special where the tour leaders are the Philippine ambassadors to the U.S. and Canada," said Cuevas-Lim. "And for the Los Angeles group the tour leader is Congen Mary Jo (Bernardo-Aragon)."
Similar launching rites will be held all over North America in Philippine consular posts covered by the project, which began in 2005 as a specially-arranged, special-access tour led by the Philippine Ambassador to the United States. Highlight of the tour is a visit to Malacanang, the presidential palace, and an audience with His Excellency Benigno Simeon Aquino III.
The Tour is a joint project of all Philippine Foreign Service Posts in the United States (Agana, Chicago, Honolulu, Los Angeles, New York, Saipan, San Francisco, and Washington, D.C.) in cooperation with the Philippine Department of Tourism and Philippine Department of Trade and Industry.
Participants join United States Philippine Ambassadors, all Philippine Consuls General and Tourism Directors in the United States in a tour to selected tourist attractions in the Philippines.
Tour organizers said the Ambassadors Tour, "is organized to give those who have not been to the country for sometime to revisit their homeland… experience the beauty of the country's top tourist destinations, explore business opportunities, and meet the President."
North America achieved a growth a 15.9% tourist arrivals as of January 2011.  Congen Aragon said, "this tour will be a great opportunity for  Fil-Am to meet personally  our new President in Malcanang Palace."
The Basic Tour, July 17-23 (PAL  at US$1,849.00,  and Korean Airlines at $1,715.00 including fuel and taxes, respectively), covers an Economy roundtrip airfare Los Angeles-Manila-Los Angeles;  3 nights' stay with early check-in at Dusit Thani Hotel  with buffet breakfasts;  audience and photo-op with the President;  lunch at Malacanang and tour of the Palace Museum;  3 dinners with entertainment;  3 lunches;  day out-of-town tours (choice of:  Corregidor, Kulinarya Tour to Cavite/Batangas, or Kulinarya Tour to Laguna/Quezon, or Kulnarya Tour to Pampaga/Bulacan);  Manila City tour and Manila Ocean park;  grand welcome and airport amenities;  business seminars;  all transfers, porterage, and more.
Optional out-of-town tours are offered at additional cost.
Deadline for registration is May 30, the full-payment deadline June 15.
For further information or reservation, please contact the Philippine Consulate General, 3600 Wilshire Blvd., 5th Floor, Los Angeles, California 90010; Â Tel. No. (213) 637-3031;Â  Fax (213) 639-0990. Â Â The Philippine Department of Tourism, 3660 Wilshire Blvd., Suite 216, Los Angeles, California 90010;Â  Tel. No. (213) 487-4525;Â  fax (213) 386-4063; E-mail: pdotla@aol.com.