By Michael Rosenberg
We're talking about the year in sports, and it's important to take your eye off the ball.
Sports are supposed to be a diversion from real life. But in 2010, real life kept diverting us from sports. You couldn't turn on a game without wondering if the starting pitcher's reality show about his recent drug scandal affected his judgment during his sex scandal while he was illegally tweeting about his tax-evasion scandal.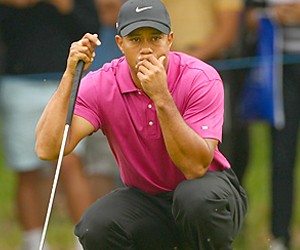 In 2009, Tiger Woods was arguably the biggest sports star in the world. In 2010, he made the biggest headlines of his life and didn't even win a tournament. The Masters began with everybody talking about Tiger's wife, and it ended with everybody talking about Phil Mickelson's. Mickelson accepted his third green jacket with his cancer-battling wife, Amy, at his side.
More than in any other year, the story of the Super Bowl was about the winning city (New Orleans), not the winning team (the Saints). The Philadelphia Eagles had not one, not two, but three quarterbacks who were known mostly for their storylines. Donovan McNabb was the guy who got traded to a division rival. Kevin Kolb was the guy who got a big contract he hadn't earned, then he got benched when he hadn't really earned that either. And Michael Vick could win the league MVP award and he will still be the guy who came back from a dogfighting conviction.
There were six no-hitters in baseball, including two by Roy Halladay – one in the playoffs. Halladay was so dominant in his postseason debut that in the last few innings, a no-hitter seemed inevitable. Yet the most inspiring no-hitter of the year was not, officially, a no-hitter at all. Armando Galarraga threw an Extra Perfect Game – 28 straight outs earned, one taken away on a bad call by umpire Jim Joyce. Afterward, Galarraga showed uncommon grace and Joyce took full responsibility, and from a dark sports moment, two heroes emerged.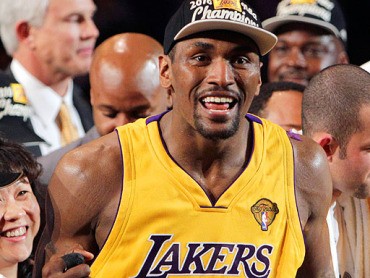 The Lakers and Celtics tussled all the way to the end of Game 7, but afterward, the most memorable moment was not a Kobe Bryant shot or Kevin Garnett rebound. It was Ron Artest thanking his shrink. Alas, Ron-Ron's shrink apparently does not work with LeBron James; if so, they could have done some heavy narcissism therapy and saved us all from "The Decision," which was, to put it mildly, the worst idea in the history of the universe.
Jimmie Johnson won his fifth straight NASCAR championship, an achievement that would make him the most popular driver ever … if only he were more interesting off the track.
Nineteen years after upstart Duke shocked mighty UNLV on its way to college basketball's national title, upstart Butler nearly shocked Duke. But the biggest college sports story unfolded over the summer, when most students were off campus. The Big Ten snatched Nebraska and the Pac-10 swiped Utah and Colorado in a massive wave of alignment. The year ended with Texas Christian joining the Big East, where it will compete against its longtime rivals Connecticut and South Florida. Massachusetts might join the Mid-American Conference, which would please the folks on Fox News who have been arguing for years that Massachusetts is not fully American.
Meanwhile, the NCAA hinted that it would expand its men's tournament to 96 teams, scaring everybody who cares about the sport. It was a genius p.r. move – when the NCAA expanded instead to 68, which is still too many, people actually thanked the organization.
Jayson Werth got more attention for becoming a free agent than he ever got on the field. Before his free agency approached, Werth was, what, the Phillies' eighth-best known player? (Count 'em: Roy Halladay, Ryan Howard, Chase Utley, Jimmy Rollins, Roy Oswalt, Cole Hamels, Brad Lidge.) When Werth hit free agency, the Washington Nationals basically told him to name his price. Then, presumably because of a bookkeeping error, the Nationals accidentally cut the check twice. The result was a $126 million deal for a 31-year-old with 684 career hits.
The Vikings traded a third-round pick for Randy Moss, and were then astonished to find out that he has a bad attitude. I don't know how they were supposed to see that coming, since he had played for them for only seven years.
Meanwhile, in case you are one of the last remaining souls who questions Bill Belichick's genius, consider that he traded a fourth-round pick in the 2007 draft for Moss, got 50 touchdown catches out of him in 51 games, then dealt him for a third-round pick. When Belichick plays poker, his opponents always end up with four cards. His Patriots have won at least 10 games in each of the last eight years.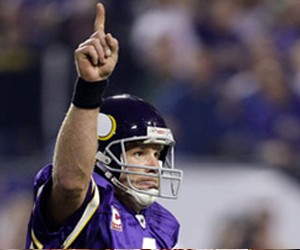 For 19 years, Brett Favre was the surest thing in sports: He never missed a game and never played it safe. In year 20, Favre finally got knocked out of the starting lineup because of a lack of feeling in his hand, and the public reaction was: "Hey, did you see those photos he supposedly texted?"
One of the most talked-about players in the NFL, Albert Haynesworth, never played, and never seemed like he wanted to play. Tom Brady was at his very best, which almost took the focus away from his hair. Almost.
The American League MVP, Josh Hamilton, became one of the most famous rehabilitated drug addicts in sports history. A World Series hero, Tim Lincecum, became more beloved in his city for his love of marijuana. "Let Timmy Smoke!" Giants fans cheered, which just shows Lincecum is the right fit for his city.
President Obama, the nation's most famous bracketologist, got hurt in a pickup game. Greg Norman and Chris Evert got divorced. Why? Because they got married, that's why.
Urban Meyer decided he needs to get off the college football field, at age 46; in his final game, he will face 84-year-old Joe Paterno, who turned 46 in 1972. Paterno will be back next year.
Mark McGwire admitted he used steroids, surprising Tony LaRussa and nobody else.
The NFL acknowledged that maybe having large men bang into each other repeatedly from the ages of 12 to 35 is not so good for their noggins. The ongoing conversation about concussions – mercifully, nobody has tabbed it Concussiongate – has already started to define the league. Late in the season, Packers quarterback Aaron Rodgers missed almost two full games after suffering his second concussion of the year. Hard to imagine that happening in 2005.
The story of the college football season was Auburn quarterback Cam Newton, whose father allegedly tried to shake down a Mississippi State booster for $180,000, but Cam says he didn't know anything about it, and he signed with Auburn for ABSOLUTELY NOTHING, OK? Newton is not mad at his folks, though. At the Heisman ceremony, he thanked them by saying, "My parents do a lot of things behind the scenes that go unnoticed."
The story of the World Cup, at least in the U.S., was how many people were into it. Apparently we don't need an American sport to fall in love with our televisions. And speaking of cups … the U.S. lost the Ryder Cup with a subpar Tiger, but then, the U.S. is used to losing with a superior Tiger.
The Blackhawks brought both the Stanley Cup and a love of hockey back to Chicago. It's hard to say which achievement was more impressive.
Gilbert Arenas got suspended for celebrating Bring Your Gun To Work Day, then was rewarded with a trade to a much better team. It's hard to say which achievement was more depressing.
America learned who the horse Zenyatta was just in time to watch her lose. Arizona State finished its ninth major infractions case, an NCAA record. For a limited time, the Sun Devils can get a 10th at no additional cost.
The Winter Olympics were marred by the death of Georgian luger Nodar Kumaritashvili on one of the fastest tracks in history. The mother of Canadian figure skater Joannie Rochette died two days before Rochette's competition began. Rochette won the bronze. The most hyped Canadian athlete of this generation, Sidney Crosby, scored a gold-medal-winning goal in overtime, in Canada, against the United States. Crosby could not have made his nation happier if he had turned tap water into Molson.
John Wooden, winner of 10 NCAA championships at UCLA, died at age 99. And all his players could talk about was what he taught them off the court. George Steinbrenner died, and the Yankees honored him with a Monument Park plaque that dwarfed the tributes to Ruth, Gehrig, DiMaggio, Mantle and the rest. It was an appropriate tribute to Steinbrenner, if not a classy one.
Derek Jeter, who has avoided controversy his entire career, found himself in the middle of one when his contract negotiations turned ugly. Bobby Cox, who watched the end of more games from the clubhouse than any manager in history, retired after a surprising playoff run with his last Braves team.
Dolphins linebacker Channing Crowder ran away with Quote of the Year honors for a rant so glorious we don't even know where to begin. Crowder called the officials "little Stevie Wonder and Anne Frank," and when you are trying to offend blind people and offend somebody else more, you know you're on a roll.
Really now: Anne Frank?
"Who was that?" Crowder asked. "Is that the blind girl? Helen Keller … I don't know who the [expletive] Anne Frank is. I'm mad right now. [Expletive] it. I'm not as swift as I usually am."
No worries, Channing. You're paid to hit ball carriers, not teach history. Now get back on that field. Please. Labor disputes in the NFL and NBA are looming in 2011, which is almost too much for an American sports fan to stomach. It's bad enough that this year, the games weren't really about the games. What do we do next year if there are no games at all?