By Lydia V. Solis
Described as "fair and pretty," Bea will reign as the Rangers Club Muse on December 4, 2010, at the town plaza or Taal Social Court in Taal Heritage Village (Batangas), in celebration of the Rangers Club's 55th anniversary, and, woefully, its last elite gala.
Bea was born on July 8, 1994, stands 5'6″ tall, and is a high school junior at the Assumption College in Makati. She's the captain of their badminton team, involved in Art Corps and, as a member of the Prom Creative Committee, volunteers at school fairs.
The 16-year-old daughter of Mitz Reyes and Gerry Limpo (son of Margaret Uy), comes from the Mama Sita Reyes family. She is the niece of businessman Greg Uy, 2010 Rangers Club president, who has retired with his wife Chit (Castillo) from California to Rockwell in Makati (Chit was the first muse of the Rangers Club in 1955; their daughter Monica Uy Altura, the 1991 muse; and Greg, the last president).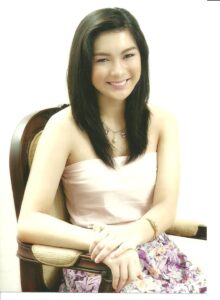 Among the officers of the 2010 Rangers Club are: President Gregorio T. Uy (Calif.); Vice President Roy Darvin; Treasurer Charito Apacible; Secretary Lilia Banaag; and Auditor Tito Reyes. Chairman of the Executive Committee is Roland Leyesa, while Vice-Chairman is Eddie B. De Sagun (Calif.)
Among those who have confirmed their attendance are 1st District Batangas Representative Tom Apacible, as guest speaker; and 2nd District Cavite Representative Lani Mercado Revilla, as guest of honor.
It all started in 1949, with a small group of boys, ages 9 to 10, from Calle Luna. Nestor Cosio, now a resident of Rialto, Calif., baptized the group "Rangers," as their hero was the Lone Ranger. (According to sources, the Lone Ranger was the only survivor of six Texas Rangers ambushed while chasing outlaws.) Soon, clusters of boys from other parts of town joined in cementing an everlasting friendship.
The Rangers Club boasts of 68 members and 24 lady members. Fifteen Rangers and a Rangerette have since passed on.
"As I read the history of your club," wrote Governor Vilma Santos-Recto in 2009, "I am so glad to note that as early as your boyhood in the outskirts of Calle Luna, Calle Mayor, Ilaya, Burgos and Palengke, you have established a close 'barkadahan' among yourselves which you have nurtured and fortified as you grew up."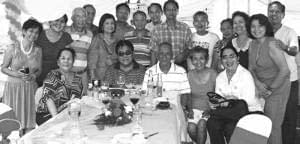 When the group became older, the late Batangas Fiscal Felizardo"Dando" Lota founded the Rangers Club, according to Eddie, and became its first president in 1955. Starting off with jam sessions at a dance hall by the Pancipit River, moving on to semi-formals at the Taal Municipal Hall, Rangers finally staged glitzy galas at the Taal Social Court.
But the Rangers Club is not only about socials.
"Throughout these years," stated 2000 guest speaker Senator Edgardo J. Angara, said to be the longest-serving senator of the post EDSA Senate, "we have witnessed the unwavering commitment and dedication of your organization in helping our less privileged and less fortunate kababayans." President that year was former 1st District Batangas Representative Conrado Apacible; muse was Maria Carmelle Reyes Noble, daughter of Noel and Sandra Reyes Noble.
The Rangers Club also contributed towards beautifying their hometown Taal, a Heritage Village with over two dozen landmarks declared by the Philippine National Historical Society – "one of the best-preserved Spanish colonial towns of the country… And home to a good number of heroes of the Philippine Revolution including the principal seamstress of the Philippine flag, Marcela Mariño Agoncillo."
While the Rangers Club draws its curtain on its elite anniversary balls, it is a given that friendship and camaraderie will last as long as there are birthdays, graduations, weddings, anniversaries, and the like, to commemorate. Informal reunions are also being planned.
But most importantly, Rangers are committed to continue their medical/dental missions as well as their food distribution.
"I always believe that to work for others," said then Batangas Governor, now 2nd District Batangas Congressman Hermilando I. Mandanas, "to aim for goals that go beyond the self, is the measure of nobility of the heart. This is what the Rangers Club and its members should undertake to be able to establish a legacy that will be remembered in the history of the organization."