CHICAGO – In honor of the Bears' demise in the NFC championship game, the league should commission Faberge to make a trophy for the losing team:
The Jay Cutler Egg.
Handle with extreme care or it will pretend to crack.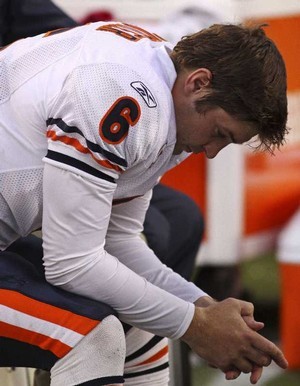 With the Packers frustrating him Sunday, Cutler limped off the field and … no wait, he didn't limp off. He didn't even wobble. He just sort of slinked out of sight and never returned, triggering an avalanche of doubt and derision.
"Kneegate in Chicago," tweeted Redskins receiver Anthony Armstrong.
Was he or wasn't he injured? Only Cutler and every NFL player, fan and official seem to know for sure.
Everybody has an opinion. I think he was genuinely hurt, but then I bought every Milli Vanilli CD.
The fact is nobody but Cutler can say for sure. He's darned sure not getting the benefit of the doubt, however. And for that, the Bears quarterback has nobody to blame but himself.
Cutler simply doesn't look as if he cares. Beneath that nonchalance may burn the soul of Mike Ditka. But the public persona is arrogant and airheaded. Now you can add wimpy to the equation.
"Hey, I think the urban meyer rule is effect right now… When the going gets tough……..QUIT." Maurice Jones-Drew tweeted during the game. "All I'm saying is that he can finish the game on a hurt knee…I played the whole season on one."
If nothing else, we found out Sunday how much respect Cutler has around the league. It's slightly more than Barry Manilow.
In seven first-half possessions, he led Chicago to six punts and an interception. On that sixth possession he was hit in the left knee. Or was it the right knee?
Whichever, Cutler went out for the final possession. He said he couldn't plant his leg properly, and the knee didn't respond to halftime treatment. All the TV audience and crowd at Soldier Field knew was 59-year-old Todd Collins came in early in the second half.
"FOX HAVEN'T SHOWED ANY TRAINERS LOOKING AT CUTLER, UMMM," tweeted Derrick Brooks, a former NFL Defensive Player of the Year.
Gosh, you've got to love Twitter. What it lacks in grammatical precision, it makes up for in unedited opinionating. And the fact is, it wasn't just the cynical media and howling Packers fans twittering with doubt.
Cutler's reaction?
"No comment," he said.
He should have called all the skeptics bad names and challenged them to a duel. That's the kind of moxie we want and expect from our jock heroes. When they get hurt, we want to see bones sticking out. We want X-rays where the anterior cruciate ligament looks like spaghetti.
We want to see grimacing and sucking it up and trainers having to pry a QB's cold, dead fingers off the football. One of the most famous photos in NFL history is of Y.A. Tittle sitting on his haunches, blood trickling down his bald head.
Cutler's pictures were of a guy wearing a hooded cape and looking bored. His injury didn't lead to Chicago's 21-14 loss. If anything, it helped the Bears' cause since they eventually got down to third-teamer Caleb Hanie.
Caleb Hanie?
He may sound like the trainer for an Amish square-dancing team, but young Caleb almost rallied Chicago to victory. His fire and resiliency only made Mr. Cool Cutler look worse on the sideline.
Hanie became a folk hero Sunday, while Cutler may have wimped his way out of town. This is the City of the Big Shoulders, not of Mysteriously Sprained Knees. The timing and location and choreography could not have been worse for Cutler.
"I know my knee," he said. "I know my body."
The rest of us can only make educated guesses. Back to Twitter, this time from Arizona's Darnell Dockett:
"If I'm on Chicago team jay cutler has to wait till me and the team shower get dressed and leave before he comes in the locker room!"
Cutler's teammates allowed him to shower with them. Whether they shared the soap might have been another matter.
"If there was any way he could have played, there's no question he would have," Greg Olsen said.
"Nothing like jealous people at home watching," Brian Urlacher said. "I love jealous people when they are watching our game on TV while their season is over."
To which a lot of players would tweet: "Jealous? Try Honest."
Brett Favre gets the benefit of the doubt in cases like this. Jay Cutler, not so much.
"I don't know exactly when it happened," Lovie Smith said. "He couldn't go and that was that. Let's go on to some other questions."
Sorry, this one's going to linger for a while. Cutler said he will get an MRI on Monday. His knee diagnosis after the game was pretty simple.
"It hurt," he said.
Problem was, he just didn't sell it. Cutler got dressed in his blue jeans and a purple coat, then he walked out of the locker room. There wasn't a hint of a limp.
Maybe Cutler simply doesn't care what people think and he never will. But for his sake, that MRI better look like a plate of spaghetti.