The Filipino Family Caregiver Program of the Asian Pacific Health Care Venture, Inc. (APHCV) held a community event Saturday for care providers who are caring for their loved ones with memory loss, such as Alzheimer's Disease, Dementia and other memory-related illnesses.
Over 100 Filipino family care providers and their care recipients, seniors, as well as leaders and members of the community and the media attended the event, held at the Mayflower Restaurant over the weekend.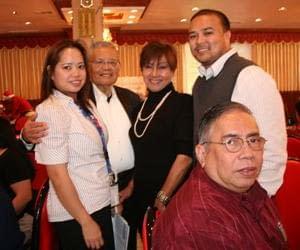 Field Deputy Ryan Carpio of the Office of Council President Eric Garcetti, congratulated the Alzheimer's Association and APHCV for organizing the Filipino Family Caregiver Program, noting that it is a great help to the Filipinos, as most elders are taken care of by their loved ones at home.
The tips on memory loss and aging presented by Ms. Kami Chin are very useful not just for those with the memory loss, but even to anybody in their everyday activities.
The Filipino Family Caregiver Program is a project of the API Dementia Care Network in collaboration with the Alzheimer's Association. Other members of the network are Chinatown Service Center, the Little Tokyo Service Center, Bet Tzedek Legal Services, Partners in Care and the LA Caregiver Resource Center; and generously funded by the Harry & Jeannette Weinberg Foundation, Inc. and Pfizer, Inc.

APHCV is a Community Health Center whose mission is to provide quality health care services to the marginalized and the underserved members of the community. It offers health programs, education and other socio-civic programs to target areas in Los Angeles.
For more information on how to avail of the Filipino Family Caregiver program, please contact Perla Reyes, Care Advocate, Tel. 323 644 3880 Ext. 341 or email pryes@aphc.org.