By Luke Winn
HOUSTON – Age versus youth. That was the prime storyline in advance of this national title game, where 68-year-old UConn coach Jim Calhoun would be matching wits with 34-year-old Butler coach Brad Stevens. It was presumed that Calhoun had seen everything in college basketball. He was born on May 10, 1942, in the third year of the NCAA tournament's existence, and has played and coached in six different decades. And yet Calhoun's third national championship was won by breaking a title-game record that was a year older than he is.
Calhoun found this out while standing on the confetti-strewn court at Reliant Stadium, watching his young team – the one that began the year unranked, never lost a game on a neutral court, and won the title by going on an 11-0 run after March 8 – mug for cameras atop the podium. His right-hand man, George Blaney, no spring chicken himself, stood next to Calhoun and leaned in close, to speak above the din of the UConn band. Blaney was two years old when Wisconsin held Washington State to 21.5 percent shooting in the 1941 title game, and that record had stood for 70 years, mostly because the quality of play in college basketball has improved immensely since then. Those were the dark ages, never to be repeated. Except in the Huskies' 53-41 win over Butler, Wisconsin's record was trumped.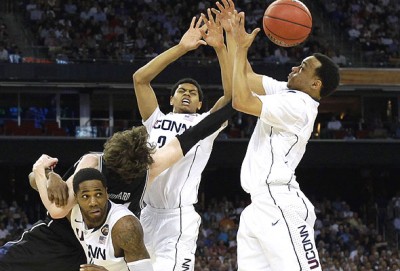 "Under 20 percent," Blaney said into Calhoun's left ear. "Greatest [defensive] performance ever."
They looked at each other, speechless after that, and moved to join their players on the podium. Calhoun was proud of that number. When they retreated to the locker room after watching One Shining Moment, he stood before the team and played dumb, asking Blaney again, what did Butler shoot?
"Eighteen-point-eight percent," was the answer.
Freshman point guard Shabazz Napier, the defensive sparkplug whom they inserted into the starting lineup at the beginning of the second half, and whose pressure was credited with preventing the Bulldogs' offense from running at full speed, sat on the folding chair in front of his locker, in awe of that number.
"All I said was, 'Damn'," he recalled. "Actually, we all said 'Damn."
There is no disputing that this was among the ugliest title games of college basketball's modern era, one that was 22-19 in Butler's favor at halftime, and nearly had peach-basket jokes trending on Twitter. A wild NCAA tournament, with a Monday night that featured two surprise finalists, deserved a better ending. But to say there was no beauty in it would be wrong. As Calhoun said, "From a purist's standpoint, you want to teach them defense, take a clip of both teams, and you'd see some terrific defense." Indeed, UConn's defensive masterpiece could be used as an instructional tape for the next 70 years. It was a clinic on how to challenge shooters, fluster big men and take a precision offense out of its rhythm.
When retrospectives are written about this UConn title run 20 years from now, what will be remembered most is the brilliance of Kemba Walker, the scoring guard who put his team on his back, and the way Calhoun engineered an unlikely championship run in the twilight of his Hall of Fame career. But what was most shocking about this Monday night, in the moment, was the way the greatest defensive performance in title-game history was keyed by a crew of freshmen, none of whom were five-star recruits.
UConn was slumping down the stretch in 2010-11; its 17-2 start had turned into a 21-9 record heading into the Big East tournament, and Calhoun made a conscious decision to shift the focus of his practices. "We thought the best way to disguise our youth," he said, "was to get better at defense every day.
"We would take literally 50 percent of practice on nothing but defense. Two-on-two, three-on-three, shell, five-on-five, retreat. That's much more than almost any other team I've done."
When it came time to hand out the defensive assignments for the Butler game, the Husky who drew the Bulldogs' scoring star, Shelvin Mack, was a spindly, 6-foot-5 freshman: Jeremy Lamb. Mack had been unstoppable in the semifinal against VCU, scoring 24 points on 8-of-11 shooting, and he had a propensity for stepping up in big games. UConn's scouting report on him said, "He must feel you when your (sic) playing him — if you go under or drop your stick hand he will rise up and shoot." Lamb's instructions were to contest every shot and push Mack back off the three-point line, forcing him to drive the ball into the Huskies' trees. They would "red," or hard double-team him, off of ball screens. It was a nice plan, but Mack had foiled many such plans in the past.
Monday night was different. As Mack pulled up for his first three-point attempt — and Butler's first shot of the game — with 19:25 on the clock, he appeared to have an open look. But he had never been guarded by someone with the wingspan of Lamb, who says his reach is 7-foot-1. He is Hakim Warrick in a backcourt package, and he covered a great deal of ground in a short amount of time in order to swat Mack's shot away, sending an early message: There would be no easy threes in this game.
Asked to describe what happened with Mack after that, Lamb paused for a moment, and said, "I'm going to sit down."
He was exhausted after putting maximum effort into holding Butler's star guard to 4-of-15 shooting and 13 points. "Once I blocked his first shot," Lamb said, "I think he was timid on the next couple, and there were a few times where I felt like he wanted to raise up, but didn't, because he felt like I was there."
Once UConn coaches realized — and realized quickly — that Lamb could handle Mack one-on-one, they made a key alteration to the defensive plan, calling off the "red" double-team on ball-screens. The ripple effect, according to Blaney, "is that then, they're not able to get the ball ahead of you to the open man. That's what you give up when you trap."
Instead of throwing ahead to Matt Howard or Andrew Smith for good looks in the paint, the Bulldogs were forced to rotate the ball elsewhere, and unusual shooting candidates such as Chase Stigall became their primary long-range options. Stigall had scored five points in the whole tournament, but attempted 11 shots (and scored nine points) against UConn. "We thought, 'If he's taking those shots, we're good to go,'" Napier said of Stigall. "Because if Mack takes those shots, we're through."
While Lamb was locking up Mack, Napier was serving as the pressure man on Butler's point guards in the second half, picking them up early and throwing their halfcourt sets out of whack. Calhoun told Napier at halftime, "This teams runs on you," and assistant Andre LaFleur said the freshman guard got them off to a "gritty start" after the break. Blaney credited Napier's extended pressure with keeping the Bulldogs pushed off of the three-point line, where they couldn't get clear looks or high-quality post feeds to Howard.
The most unexpected line in Butler's box score belonged to Howard, their hero of the tournament prior to the title game. He went 1-of-13 from the field, finishing with seven points, and his struggles in the lane were contagious: The Bulldogs went 3-of-31 as a whole from inside the arc, and lost the points-in-the-paint battle 26 to two. UConn's secret against Howard, according to LaFleur, was to avoid forcing big men Alex Oriakhi and Charles Okwandu to do all the work. The Huskies often switched to small lineups and rotated a series of athletic, "combo" forwards on Howard, such as freshmen Roscoe Smith (who had four blocks) and Niels Giffey and sophomore Jamal Coombs-McDaniel.
Walker, in assessing his teammates' interior D, used the curious combination of "long and lengthy," saying, "I thought our inside game was a little bit too much for them. Alex, Charles, Jeremy, Roscoe, those guys, they're extremely long and lengthy."
As frustration mounted for Butler inside — center Andrew Smith was also 2-of-9, and incapable of finishing against Oriakhi (four blocks) and Okwandu — the Bulldogs began to take worse and worse shots from the perimeter and mid-range territory. At the 16:46 mark of the second half, with Butler trailing 26-25, and having missed five straight attempts and committed a turnover, Stevens turned to his bench and appeared to say, "Our offense is awful."
Three minutes later, a steal by Lamb and a dunk — the first dunk of the game, and the first dunk Butler had allowed in a title game in two years — put UConn up 31-26, and the Huskies only expanded their lead from there. It was an excruciating night for the Butler offense, which went ice cold against an inspired D, and for the first time all tournament, had the pace dictated by its opponent. The Bulldogs typically reverse the ball so quickly that they get quality shots, but they couldn't pass with ease on Monday, and it slowed their offense considerably. They scored 0.715 points per possession, making it their least-efficient game of the season. They couldn't make contested shots. They couldn't make open shots. They couldn't drop the ball in the hoop from point-blank range. Butler did not look like Butler. Some of that was its own fault, but much of it was due to the Huskies.
As UConn kept locking down on possession after possession, Calhoun became more animated on the sideline. Much had been written, before the Final Four, about the defensive stances the 34-year-old coach of VCU, Shaka Smart, would take while egging on his team, and Calhoun was viewed as the grandfather on the opposite side of the bracket. But here, Calhoun was chewing his gum at a furious pace, getting in crouches, waving his arms, ecstatic over the effort of the kids who were about to make him only the fifth coach with three or more titles in college basketball history, and the oldest coach ever to win a national championship.
UConn-Butler will not sell well on DVD among the general populace. Nor will it warrant encore viewings on cable. But it will likely be considered, for a very long time, the gold standard of big-game defensive performances. Of the effort involved in that, Calhoun said, "To me, that's beauty. That's what this game should be about."
Blaney, who has been alongside Calhoun for the past nine years, stood outside the Huskies' locker room in the wee hours of Tuesday morning, explaining their guarding tactics — on ball-screens, on shooters, and in the post — but he said that ultimately, their success came down to one thing: "Coach makes people compete."
A new question was raised, but Blaney stopped the questioner and said, "No — listen to that. Coach makes people compete."
The legacy of Jim Calhoun will be discussed in the coming weeks and months, as he contemplates retirement, and considers leaving the program he built from scratch into a powerhouse on the highest of highs, which would allow him to avoid serving the NCAA-mandated suspension that awaits next November. This game may not have been what we all wanted, but Calhoun was just fine with what he got: A record proving that on the biggest stage of all, his unlikeliest of champions played defense with everything they had.