SO LA
By Jannelle So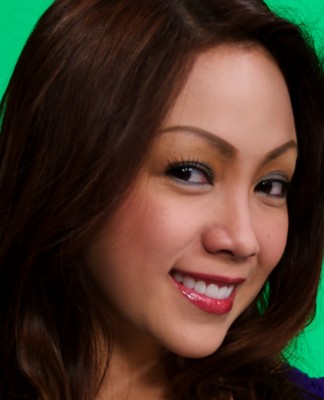 I was hooked on "Baby" and I remember exactly when and how it happened. I was visiting a friend in Denver, CO one weekend and we drove to Boulder for the Bolder in Boulder 10k event. (Was that confusing? Read more slowly.) We had so much fun that by the time we were ready to drive the back to Denver, it was already 3 a.m. One of my friends was already passed out. The other was a noisy drunk who sat in front of the car to give me directions because I was the one sober enough to drive, even though I was not familiar with the freeways.
To keep us company, she played a CD, which I thought was a complete waste because all she did was rewind and repeat two songs from the whole Justin Bieber album – "One Less Lonely Girl" and "Baby." Needless to say, we got home and I had almost memorized the lyrics to "Baby." The next morning, I had a really bad case of LSS (last-song-syndrome). Actually, I was humming "Baby" until a few days after I arrived back in Los Angeles. But, I didn't consider myself a Belieber. I thought it was just a fun song to sing with a drunken friend.
Still, when I heard a few months later that Bieber fever was hitting Southern California in a concert, I sent an email blast to my girl friends, asking if we could all watch it. After all, we had just purchased tickets to the Usher concert a week before. I was certain if they were in for Usher, they were also going to be in for JB. I was wrong. I only got one reply back from the five emails I sent out: "Are you serious?"
So, I asked my sister-in-law to watch with me instead. She had just gone to a Taylor Swift concert and I thought Taylor Swift and JB had about the same appeal. Apparently, I thought wrong. "There's a difference. Taylor Swift and Justin Bieber ARE different" she said. "Why don't you ask Mel?"
Mel was my 15-year old brother. I wasn't keen on taking my teenage brother to the concert because: a) I might look like a mom taking his son to a concert; or b) I might look like a cougar out on a date. It was only one of two things. But I really wanted to watch and I thought surely he'd want to watch, too. He has been trying to grow his hair and practicing how to flip it sideways. But when I excitedly told him, he just looked at me like I was asking him to jump off a cliff.
I felt really bad that nobody wanted to go to the Bieber concert with me. But that was just that. I wasn't a Belieber, I just thought it would be a fun concert to watch.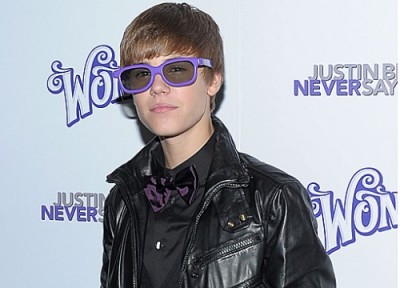 After I had gotten over "Baby," I got a call from Manila, asking if I wanted two tickets to the "Never Say Never" World Premier. I thought it still wasn't the same as witnessing JB in concert; but it would be interesting to watch this movie about his life and rise to super stardom. And luckily, this time, I had someone to go with, Lizette. She has been going with me everywhere because she's been pushing me in my wheelchair since I fractured my left foot last month. And she wasn't just someone to go with, she was actually, a Bieber fan!
Days leading up to the preem, she kept giving me the low down on how excited people were about the movie. She asked me though, why 3D? "Is it like MMK ("Maala-ala Mo Kaya") but on 3D?" I was thinking the same thing! Most 3D films I've heard of were animated. And it actually posed a problem because I get really dizzy with the glasses.
Nonetheless, I colored my nails purple the night before, to prepare for the event. Seriously! Anticipation was building. People were tweeting about the movie and the premier. I found myself getting excited, like I was teener again!
On the day of, we had to rush because I had a live show that ended at 5 p.m. in West LA and the purple carpet arrivals were set for 6 p.m. in Downtown LA. It was a cold night, too. But Bieber fans and friends did not mind. They were crowding the carpet area, right on the street. From a few hundred yards away, I could hear the screaming. It was insane! The main road was closed and the remaining open side streets were congested. We were provided a parking pass which meant we could park for free; but it was in a structure behind the Nokia Theater where the movie was being screened.
I commend customer service at Nokia Theater. Once we entered, the attendant asked if I wanted to be escorted to my seat because I was in a wheelchair. But she also gave me and Lizette some "party supplies" – a glow stick and the 3D glasses. There were free drinks and popcorn, too! I did not attempt to go even near the purple carpet anymore. I knew it was going to be dangerous. Fans were wild for the celebrities who showed up – Selena Gomez, Will Smith and family, Chris Brown, will.i.am, Sean Kingston, Miley Cyrus, Anna Maria Perez de Tagle, Usher and kids, and more. "It was non-stop celebrity arrivals for two hours," Filipino American photographer Sthanlee Mirador said on "Kababayan LA". For more purple carpet highlights, check out www.youtube.com/kababayanla18.
It took a while for the guests to get settled inside the theater. But once all the celebrities were in. Director John M. Chu was called on stage to give a few words, along with Bieber manager Scooter Braun who introduce JB who welcomed everyone and encouraged everyone to "believe in your dreams" before telling the audience to enjoy the movie.
It was genius how these people thought of making a 3D movie out of the young superstar's life. Every time Bieber would appear to reach out his hand, all the teeny boppers in the audience would reach back out, maybe hoping to touch the object of their fascination. I actually had fun, not just watching the movie, but also watching the audience reaction. They would clap, wave their glow sticks, scream, as if it was a live show; as if people on the big 3D screen could hear! Intense!
The movie also highlighted Bieber's close-knit family, starting with the way his mom raised him by herself, with the help of his grandparents. Truth be toId, I was moved to tears in one scene where Bieber's grandfather was choking in tears, talking about how difficult it was to send their young grandson and his mom out to Atlanta where his music career was supposed to start. I was also impressed by how prayerful the family was – saying thanks and praise before a concert, when Justin was sick, and many other instances.
By the time the movie was ending, I knew something in me was changed. I was becoming a Belieber. But I only confirmed it when the escort who had brought me to my seat and kept my wheelchair in the storage came by to say she was ready with my "ride." The movie was over. But I did not want to leave before the full credits rolled because I did not want to miss anything. I was willing to brave the mob of people walking out of the theater all at the same time, just so I could watch every bit of the movie, until the very end. I was so happy when the final scene showed Justin singing "Baby" during his sold-out concert at the Madison Square Garden.
It was a good movie. If you got the Bieber fever, you will definitely enjoy. And if you're like me who had tendencies but not quite there yet, this movie might also change it for you. Be warned. If nothing else, it feels good to see a kid sing and perform his way to world dominance; pursing his dreams despite rejections and hurdles; never saying "Never."
Jannelle So is the only Filipina immigrant seen daily on local television in Southern California. She is the Host/Producer of "Kababayan LA" – the first and only daily talk show for Filipino Americans and has negotiated sponsorships from companies interested in her target audience. She has more than 16 years of global content production and print and broadcast expertise covering a wide range of topics from Philippine politics to US politics, to sports, Hollywood, lifestyle, health, music. Jannelle holds a Certificate in Journalism from the University of California, Los Angeles and a Bachelor's Degree in Communication Arts which she attended as an honor scholar.